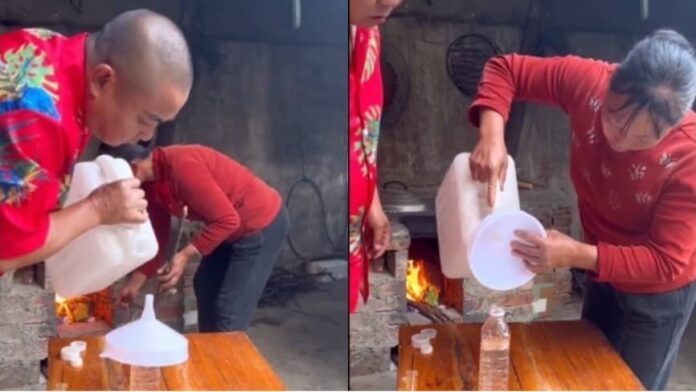 There is a video of a Chinese couple circulating on social media whose content is funny, yet revealing. In the video, the man is seen trying very hard to fill a little bottle with what looks like water or kerosene, from a gallon.
By his inefficient method of pouring the liquid substance from a container with a big opening into a receptacle that has a smaller tip, much of the water is wasted as it ends up on a table instead. That notwithstanding, he had managed to almost complete the task when his wife, rather rudely, threw a funnel at him to use. Because he did not know how to use the tool, he placed the wide opening of the funnel upside down on the bottle.
In the process, he had even a smaller tip to pour the water through. Angry at the supposed incompetence of her husband, the woman slapped him in the face and snatched the gallon and funnel from him. Guess what she did, the 'too known' wife placed the funnel on the inlet of the gallon and poured out the water through the wide opening. As expected, the liquid substance gushed out and poured over the entire bottle without a drop entering it. To cut a long story short, the couple did not know how to use a funnel to fill a bottle, thus they desperately wasted what seemed like a scarce resource to them- the liquid substance.
I saw this video for the first time on WhatsApp, I watched it and laughed. It lightened my mood, so I decided to share it with my better half. She equally enjoyed it per the GIF I received in acknowledgement of receipt. The following day, a post by my friend and class mate, Samuel Nii Narku Dowuona on Facebook attracted my attention. It read, "Please, which two political parties have been trying to solve the problem of their country, but none of them seems to get it? Your answer is your answer, don't say I implied it." When I checked the video attached to the post, lo and behold, it was my beloved Chinese couple struggling with filling the bottle.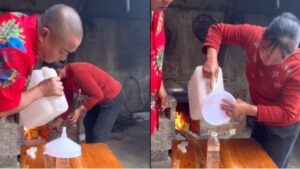 Surprisingly, unlike other similarly controversial posts by Sammy, only one person commented on this one. The comment read, "For the past close to 32 years, this is how the NDC and the NPP have been trying…"
The next day, I tuned in to Joy FM to make a date with uncle Ebow White's 'Food for Thought' segment and guess what his topic was- 'Ten characteristics of a badly governed country.' He did not mention any country's name. By the way, I have said it here before that I don't miss 'Food for thought' for anything. Indeed, I enjoy listening to uncle Ebow White, because I learn a lot from his presentations.
It is for this reason that when I was planning to launch my books last year, I tried to invite him but to no avail. I was told he does not keep a mobile phone, hence was given an email address. I am yet to receive a reply to the mail I sent. But that's okay. Maybe I am 'forskinning' too much. Lol.
As always, I found the renowned playwright's presentation on the above subject so interesting and opportune. Indeed, he cited very familiar characteristics. I have therefore taken inspiration from it to share my version of ten characteristics of a badly governed country. Like Uncle Ebow White and Sammy Dowuona, I am not going to mention the name of any country. Any resemblance to reality is your imagination. Here we go:
Flooding is considered normal
It is a badly governed country if for over five decades, flooding in particular areas of the country's capital city keeps recurring. Governments formed by the two main political parties in that country over the past three decades have only paid lip service to curbing the perennial flooding.
As a result, some residents of these areas lose hundreds of thousands of cedis worth of properties anytime it rains heavily. When it rains in the night, some of them are compelled to spend the period scooping water from their rooms. Victims of such flooding, who are formal sector workers, usually have no alternative than to call their bosses to be excused from work the following day. Hence, besides the loss to the individual, the nation loses in terms of productivity.
Another source of loss due to flooding, is man hours lost in traffic. In this badly governed country, the slightest rain in the capital city leads to collection of water on the major roads which results in huge vehicular traffic. Besides the lost man hours, fuel that has been imported at great cost and bought at cut-throat prices is wasted by stationary cars in the gridlock that results.
Access to education is a hustle
It is a badly governed country if pupils attend classes under trees and are dispersed to go home when the weather threatens. When they are lucky enough to have a fair weather, passersby, goats, birds and dangerous reptiles disrupt their lessons. Consequently, at the end of the term, not much is imparted to these supposed future leaders.
The above is for those who are able to easily access their under-tree school. There are others who have to cross rivers and lakes before getting to school to sit and write on the bare floor. Some die in the process. And when the time for accountability comes in the form of the Basic Education Certificate Examination (BECE), the results are nothing to write home about, yet there exist an Education Service and a Ministry of Education with a good share of the national budget.
Government taxes sanitary pads
It is a badly governed country if the government decides to tax sanitary pads beyond the means of the average female income earner. When God created man and woman, he charged them to go into the world and multiply. In his wisdom, he created the woman such that at the end of every month, she will lay eggs, which will pass out as blood if not fertilized. The passage of this blood, known as menstruation or simply, period, need to be absorbed hygienically. Thus, the Whiteman in his wisdom manufactured the sanitary pad.
Thankfully, the citizens of this badly governed country changed their outmoded way of managing the period and accepted the sanitary pads. Instead of encouraging them to use by subsidizing it, the government has rather imposed a luxury tax on it. Calls for this levy to be removed have gone unheeded. Not even the description of the imposition as "a cardinal sin" by the number three man in that country has made any difference. The tax is still on after the mid-year budget was read.
Sanitation challenges remain unresolved
It is a badly governed country when filth can be found in every corner of the capital city. In this era of scientific waste management and recycling, sanitation remains a challenge for that country. The Municipal, Metropolitan and District Assemblies whose mandate it is, to manage waste seem to have lost control.
Modern waste carting trucks that were deployed for this purpose have all broken down beyond repairs. In their place, we have tricycles run by individuals. Instead of carting the refuse they collect from homes to dump sites, what pertains is the littering of the litter on the streets along the routes they ply. The little said about the unhealthy practices used by these garbage collectors, the better. Those who are supposed to regulate them turn a blind eye to their operations, thus leaving them to their fate.
As much as $2m can be used on feasibility studies for sky train
It is a badly governed country if a good $2million dollars can be used for mere feasibility studies without parliamentary approval. After this wasteful venture, the Minister responsible for Railway Development said a sky train can only remain a dream. A transport expert agrees with him despite indications by the World Bank that such ventures can be undertaken through Public Private Partnerships (PPP) at no cost to the nation.
Indeed, rail transport in this heavily urbanized country is in shambles despite the fact that a whole ministry has been dedicated for this cause since 2017. The only railway line that they have to show is one that plies between the capital city and its harbour city. Another one that is supposed to link the harbour city to the river which shares a name with its region of location, for onward transportation of goods to a neighbouring country up north is still in the works.
Urban transportation remains chaotic and inhumane
It is badly governed country when commuting within the urban centres, especially the capital city remains chaotic 65 years after independence. It is quite a spectacle watching commuters shove each other off the entrance of mini buses that characterize the urban transportation system of that country. The existing system ensures that it is only the fittest who gets on board these buses during rush hours.
While on board, the experience is so inhumane. The seats are so close to each other that passengers sit on urge through the traffic-prone trips across the city. Any sudden application of the brakes of these buses by the drivers results in passengers hitting their knees against the seats in front of them. Contracting tetanus is a common occurrence on these vehicles.
Government owes almost everybody and cannot pay
It is a badly governed country if the government owes food suppliers to its second cycle institutions, caterers who provide food for pupils in basic schools, Independent Power Producers and road contractors.
That government's indebtedness is so serious that it had to restructure the payment terms with investors in its bonds. After shoving this policy down the throats of the investors, it had to take picketing and threats by no mean a person than a former Chief Justice for payments that were due, to be honoured.
Armed robbers are bold to engage police in exchange of fire
It is a badly governed country if armed robbers are bold enough to engage armed police officers in shoot-outs. That's because some of them have more sophisticated weapons than the men in black.
The sophisticated nature of the modus operandi of these robbers cannot go without mention. They are able to kill a police officer guarding a bullion van with cheeky-ease and bolt with their booty.
The president replaces ministers who resign although he has been urged to reduce their number
It is a badly governed country if the president can only work effectively with over 80 ministers of state. All calls for a halving to 40 have fallen on deaf ears. Fortunately, some of them resigned to pursue their ambition to succeed him.
Almost everybody thought it was the right time to align some of the ministries, thus reduce the number. But no. He replaced all of them. This singular act has caused some to relate his behaviour to a herbivore called 'mampam'. The narrative is that this creature, which resides in the forest, has no audible or visual senses- cannot see nor hear.
Ministers of state use their homes as banks
It is a badly governed country if a minister of state can keep over $1m, €300k and several Ghana cedis in her bedroom. When it is stolen by her house helps, she reports it to the police.
When the matter becomes a public discourse, her spokespersons explain that it is her late brother's fortune which he handed over to her late mother who handed it over to her before she passed. And because it is a badly governed country, the persons who are mandated to investigate the stolen wealth, one called OSP and the A-G, all happen to have been appointed by the president of the country, who in accepting the resignation of the minister who is under investigation, vouched for her character and indicated that she will be vindicated.
It's time to go
The above are just ten. There are more; street children abound, poorly paid civil servants etc. In fact, I could reproduce the titles of over 50 articles I have written which could easily pass for characteristics of this badly governed country.
One would have thought that with barely a year and a half for the widely perceived bad governors to leave, the alternative would be someone who is without blemish. Unfortunately, the person lacing his boots to take over has already been tried and tested and the results left so much to be desired.
Under the circumstances, we are faced with the situation in the video aforementioned. A well-meaning couple desirous of filling a bottle with a scarce resource, yet for lack of know-how, they waste it. In the case of this badly governed country, there are two Ns- New and National. They have both touted their prowess in resolving the badly governed country's challenges. However, on two occasions when they were granted eight years each, there is very little to show for their efforts.
Thus, like the ghost in a story told by one of its renowned poets and playwrights, the options of the citizens of that country are limited- N or N.
Our elders say, "Kasantwi le enuŋtsɔ"- Ga, "Ekutia nim newura" – Twi and the late reggae musician, Bob Nester Marley translated it into English- "who the cap fits, let them wear it."
Shalom – That's good bye in Hebrew.
Let God Lead! Follow Him directly, not through any human.
The writer is the author of two books whose contents share knowledge on how anyone desirous of writing like him can do so. Eric can be reached via email [email protected].
By Eric Mensah-Ayettey|3News|Onuaonline.com