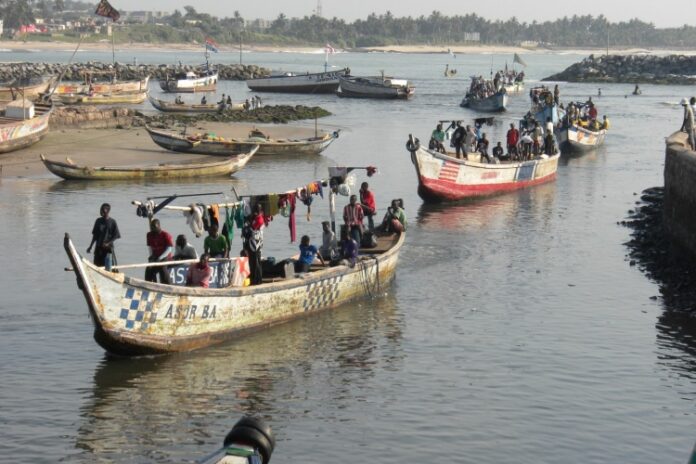 Chairman of the Ghana National Canoe Fishermen Council (GNCFC), Jojo Solomon, has asked politicians to stay away from the sector and allow them to run their business. He has jabbed their interference in the distribution of premix fuel over the years.
Speaking at a ceremony for the announcement of the 2023 Closed Season for canoe and inshore fishers at Adina in the Volta region, he said fishing is their only source of livelihood and the politicians should allow them without any interference.
"We are demanding the total de-politicisation of the fisheries industry. We need to own our own industry because we do not have any other form of livelihood except this fishing business, so we need to gourd the industry. Why are non-fishers getting so much involved in the distribution of premix fuel?" he stated.
READ ALSO: 2023 Closed fishing season: Government announces end of programme
He, however, extolled the initiative saying the outcome has been positive so far.
"Fortunately, our researchers have told us that statistics are already proving that the closed seasons are being effective and are positively impacting our catch provided we will stop all the illegal forms of fishing," he stated.
The MCE for Keta, Maxwell Lugudor in his address requested support from the marine police to ensure a proper enforcement of the closed season in subsequent years to help achieve the full impact.
READ ALSO: I'll feed the whole Africa with farming if you elect me as your President – Ken Agyapong
Section 84 of the Fisheries Act, 2002 (Act 625) mandated the Ministry of Fisheries and Aquaculture Development to implement a one-month closed season of the sea since 2015 also known as the biological rest period which is the spawning period of fish stocks.
It is believed the break allows the fish to reproduce to replace the lost population of the fish which occurred either through natural courses or harvesting.
This year's closed season which is the 8th, began on July 1, 2023 until Monday, August 1, 2023.
READ ALSO: Fisheries Ministry targets 200,000 youth in fish farming