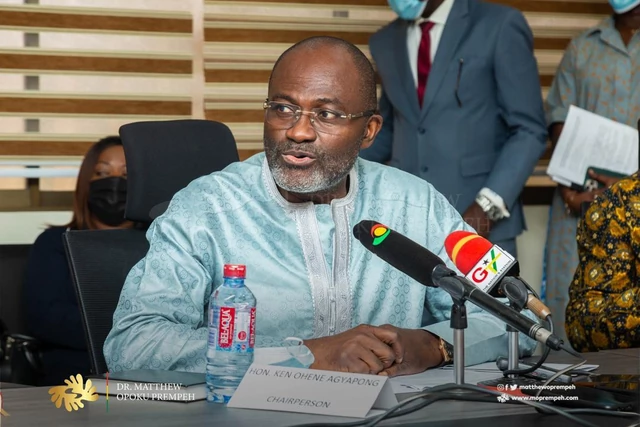 With Ghana currently struggling with high food inflation and importing several foodstuffs, Assin Central legislator, Kennedy Ohene Agyapong, has said he will feed the continent through agriculture if elected as Ghana's president. 
He says boosting the agric sector will help sustain Ghana's economy. Mr. Agyapong made the statement whilst speaking with journalists in Accra.
"If you vote me today or elect me as President of Ghana, I will use the five regions of the north, Afram and Accra plains to feed the whole of Africa," he said.
READ ALSO: 'The Humble Servant' – Ken Agyapong serving people at a function causes stir
Speaking about realising the vision with the areas mentioned, the MP said "we have arable lands here, and we are saying we are poor. We are not poor, we need a push and enlightenment. People must have confidence, so we take our destiny into our own hands and the sky will be the limit."
A survey conducted by pollster Ben Ephson revealed Kennedy Agyapong as the most popular person in the NPP but was unlikely to be chosen as the party's flagbearer should he harness the interest of leading the party one day.
According to the survey, the Assin Central MP even though popular was intolerant and certain utterances of his was not going to auger well for the party in winning floating voters.
Ken Agyapong had said he wasn't going to contest for the position until he revealed in 2022, his quest to lead the NPP to the 2024 general polls.
Distincting himself as a leader from politicians, he told his supporters in the United States his vision as a leader is to focus on development instead of politicians whose focus is to win the next election.
"I don't want to be president for eight years, I only want to be president for four years. Challenge me and see how it will be done, and there is a difference between a leader and a politician.
"A leader is the one who thinks of the development of his country and takes bold decisions irrespective of the repercussions. And the politician is the one who thinks of tomorrow's election and therefore is not bold to take decisions," he said in a YouTube video shared by Smart Ghana Updates TV.
"And so, I don't think of tomorrow's election, I think of today and how I can make a difference," he stressed adding that even in the event that he was going to spend the full eight-year constitutional term, "Ghanaians will decide after four years, I won't be afraid, I will invest in Ghana and create employment for the youth," he said.
Source: Onuaonline.com|Ghana