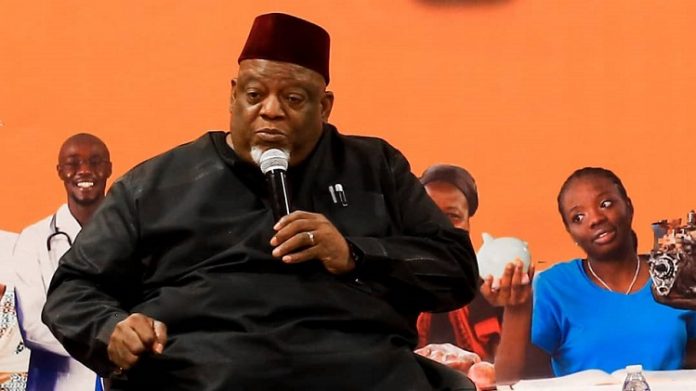 The Chief Operations Officer (COO) of Dalex Finance, Joe Jackson, has said government's resort to a Domestic Debt Exchange programme for a bailout from the IMF means the country is at the crossroads in its finances. 
The Finance expert says those granting Ghana eurobonds are doing the nation a disservice considering the lack of value for money from the loans taken by successive governments.
According to him, the debt engulfing the state is so much such that the government cannot surge in its financial responsibilities.
READ ALSO: Ghana is not poor but broke – Joe Jackson
Speaking Friday, January 20, 2023, on Onua TV/FM's Maakye, Mr. Jackson likened Ghana's situation to a young man who earns a meagre salary but lives an ostentatious lifestyle.
He said but for the J.A. Kufuor government whose credibility on the Eurobond market was a little better, the subsequent administrations have done nothing to write home about, especially with the current NPP government who pride themselves as connoisseurs of the bond market.
"Ghana is at the crossroads in our finances due to the huge debt engulfing us. If you earn ₵1,000 as a young man at the end of the month and your expenses is ₵5,000, what happens to you? You're in debt. We have surrounded ourselves with so much loans and we can't pay anymore.
"During J.A. Kufuor's time, he would pay some of our loans before we go for new ones. But the gear was changed in Mahama's time and Akufo-Addo took us to fifth gear. And now we take so much loans that we pride ourselves for being able to raise so much bonds on the market," he told Captain Smart in Twi.
Explaining the concept of bonds to the understanding of the general public, Mr. Jackson said "it is when someone loans out his money to government and decides to take it after an agreed period with an interest. Meanwhile, in case of any emergency where one goes to demand his money, he will not be given the money unless the duration dues."
Ghana established a programme called the Domestic Debt Exchange to substitute existing bonds of Ghanaians for new ones to get their payments at different matured dates.
Government says it is going to spread the payment up to 2037.
Initially, it announced there was not going to be headcuts for individual bondholders who have now been included.
An inclusion of pensions funds to the programme was fiercely resisted by organised labour who threatened an industrial action before the decision was rescinded.
Government then shifted its focus on individual bondholders who are also forming a coalition to resist the move.
The expiry dahe for signing on to the new arrangement was extended after people were advised not to sign on to the new agreement.
READ ALSO: IBHAG cautions members, others to resist signing onto voluntary exchange of existing bonds with new ones
By Felix Anim-Appau|Onuaonline.com