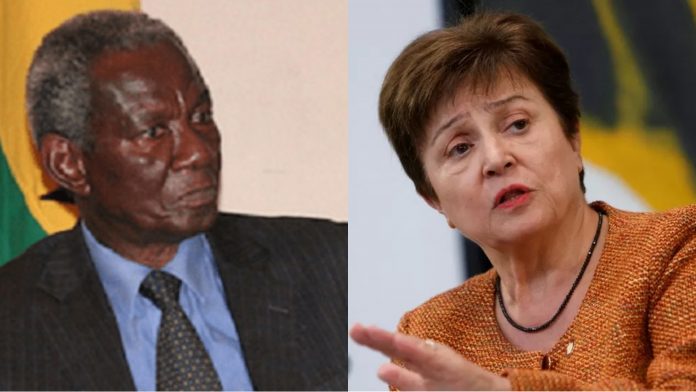 Economist Kwame Pianim has indicated the illegality in Ghana government's domestic debt exchange programme if it was engineered by the IMF as part of its conditions for Ghana to meet the requirements for a bailout programme.
He says the policy threatens Ghana's risk free nature of Government Instruments and Treasury Bills.
Government has announced to Individual Bondholders Forum (IBF) to submit to a "voluntary" arrangement to exchange their domestic bonds for new benchmark bonds.
READ ALSO: Russian Embassy accuses Akufo-Addo for taking bribes from IMF to turn against Russia
Some analysts believe the programme is a condition that the Bretton Woods Institution gave to government officials as part of negotiations for the deal.
Mr Pianim who is also a founding father of the governing New Patriotic Party (NPP) said in an interview with TV3's Paa Kwasi Asare Wednesday, January 11, 2023, that "for this government to allow Ken Ofori-Atta to sit in front of Ghanaians to make this proposal…
"If Ken was genuine, when the Attorney General came with his legal opinion, which in the commonwealth has the force of a high court order, he would have taken this document and gone to the International Monetary Fund (IMF). If indeed, it is the that IMF that told him to do that, I think it is unlawful, it is unconstitutional."
He added "… Ken Ofori-Atta is saying, let us do this programme but this is badly thought out, not thought through carefully. This exchange programme is like a time bomb that Ken is putting under this economy.
For the next 30 to 40 years, we are going to suffer from it. It is a time bomb because he is squeezing billions of Cedis from this economy.
"Government Instruments, T-Bills and and government bonds are risk-free, that is why insurance companies and banks are mandated not to invest in them because they are risk free.
"Ken Ofori-Atta has the unenviable reputation of going down in our history as the one who made government bonds not risk free. He will go down as the only Minister for Finance who has led this country into bankruptcy. That is where we are."
Source: 3News.com|Ghana