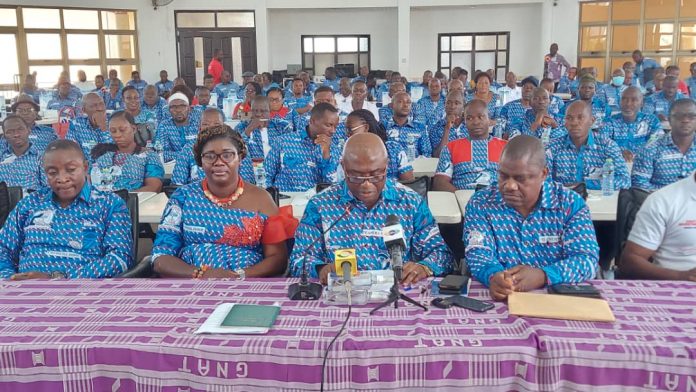 The Ghana National Association of Teachers (GNAT) has implored the Ministry of Education and Ghana Education Service to speed up the supply of laptops to teachers or refund their money to them by December 2022.
The Association indicated the delay is creating tension among members and may generate into something unpleasant.
"The delay in supplying the laptops as well as refund of the GH₵ 44.54 to teachers is still creating anxiety on our front, with a potential of rocking the industrial peace we are currently experiencing.
"Council expresses its indignation with the situation and calls for resolution of the issues by 9th December 2022, failure of which the Ministry of Education/Ghana Education Service should be held responsible for whatever may happen," General Secretary of GNAT, Thomas Tanko Musah, stated at the end of the 2022 mandatory National Council Meeting of the Association.
The group was also unhappy with the use of availability of vacancy as the determinant for promotion to the grades of Director I and II.
This they observed is a disincentive to teachers, thus causing them "disaffection, frustration, impeding career progression within the service, and consequently affecting pension/retirement emoluments" at the end of service.
"Council calls for the application of the principles for promotion as prescribed by GES on the Senior Ranks to the Grades of Director II and I.
"That moving forward, promotions to Director II and I should not be based on vacancies, and that teachers who qualify for promotion to the said ranks should be promoted," they added.
Again, the teachers raised concern about delay in paying of allowances based on a percentage of monthly gross salary to teachers in areas designated as deprived, as enjoined by the 2020 Collective Agreement between the Teacher Unions and GES.
"This has not been implemented and Council calls for the implementation of the said provision in the Collective Agreement before the end of December, 2022."
On the issue of debt restructuring as part of the IMF conditionalities, under which domestic bond holders and the Ghana Education Service Occupational Pension Scheme (GESOPS) would have their bonds restructured, GNAT wants government to exempt pensions funds from it.
"Council notes that under the arrangement, the GESOPS' funds which are the largest tier-two pensions in Ghana would be affected badly, with teachers and educaworkers losing lots of monies when they retire.
"Council therefore calls on government to exempt Pension Funds from the said restructuring, taking cognizance of the fact that pensions in the country are already nothing to write home about"
By Ibrahim Abubakar|AkomaFM|Onuaonline.com