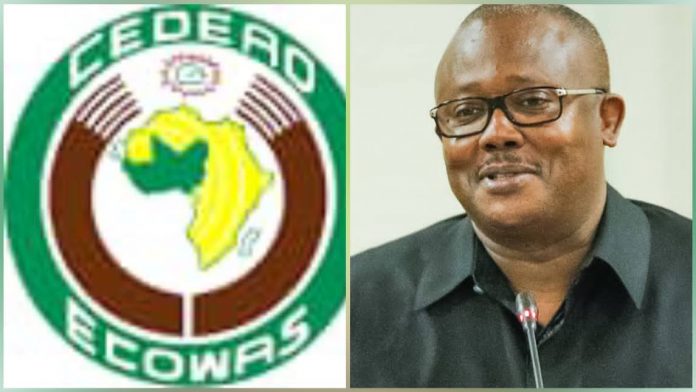 President of Guinea-Bissau Umaro Sissoco Embaló has been elected as ECOWAS Chairman.
He takes over from President Addo Dankwa Akufo-Addo who has served for two terms since 2020.
This was announced at the end of the 61st ordinary session in Accra.
President Akufo-Addo assumed the Chairmanship on September 7, 2020 in Niamey, Niger after Former President of Niger, Mahamadou Issoufou ended his tenure.
In June 2021, the mandate of President Akufo-Addo was renewed for another year based on his sterling leadership. He was to, among other things complete ongoing institutional reforms geared towards the reduction of the number of statutory Appointees of the ECOWAS Commission from fifteen to seven and also streamline operational cost.
The summit among other things examined and took decisions on the political, security and humanitarian situations in the region. It will review the current state of affairs in Mali, Guinea and Burkina Faso suspended from the organization following the unconstitutional changes of Government in these three countries.
President Akufo-Addo introduced the newly elected Chair.
"After the unanimous election by the members of the Authority of the new Chairperson of the Authority of Heads of State and government of ECOWAS, that is the President of the Republic of Guinea-Bissau, His Excellency Umaro Sissoco Embaló," he introduced.
President Embaló also thanked his colleague heads of state for the confidence reposed in him and promised to implement the ECOWAS protocols and make member states conformable.
"Guinea-Bissau is grateful to you for the trust on us. Guinea-Bissau reaffirms our commitment to the implementation of the ECOWAS agenda and pledges to do everything to make member states comfortable in our tenure. There are several challenges which we are facing. However, we are convinced that with the goodwill and solidarity that characterises our soul together, we will develop solutions to our security crises, our health crises, all crises to fight the pandemic"
He will serve a one year first term subject to renewal.
Source: Onuaonline.com|Ghana