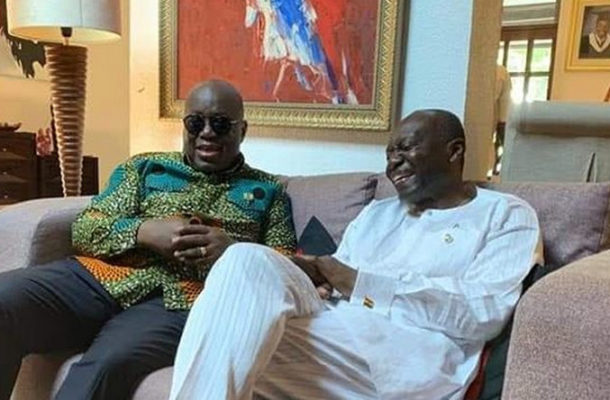 A lecturer at the Department of History and Political Science at the Kwame Nkrumah University of Science and Technology, Prof. Samuel Adu Gyamfi, has said he will be surprised if President Akufo-Addo heeds to the call of the Majority in Parliament to sack the Finance Minister.
The political scientist says it is really embarrassing for the president to play adamant to the numerous calls by the public for it to get to this stage.
His comment comes on the back of calls by some 80 Majority Members of Parliament demanding Ken Ofori-Atta's dismissal.
Prof. Adu Gyamfi speaking on Onua FM's Midday News Tuesday, following the announcement from the Majority said ousting the Finance Minister was long overdue but doubts the President will sack his cousin.
"I wasn't surprised but the only surprising thing is where the call came from. The biggest repercussion is for the president to sit aloof and remain adamant on all calls for the Finance Minister's sack for the call to come from his own people. It would go down in history against him as President.
"If he [Akufo-Addo] listens I'll be surprised because he has made up his mind not to listen to anything coming from the people. I don't think he will sack his cousin, because he won't listen," he told Yaa Titi Okrah.
A group of 80 Majority Members of Parliament earlier Tuesday, October 25, 2022 in a media briefing in Parliament asked the President to sack Ken Ofori-Atta and his Deputy, Adu Boahen to relieve Ghanaians from the economic misfortunes currently confronting the country.
"The recent happenings is not pleasing and after consulting our constituents and informing the leadership of Parliament, we want the President to set aside the Finance Minister, Ken Ofori-Atta and the deputy minister of State in charge of Finance Charles Adu Boahen for government business to continue.
"If the president refuses to heed to our call, we will not participate in any business for the government in the House," Andrews Appiah Kubih said on behalf of the group.
By Felix Anim-Appau|Onuaonline.com