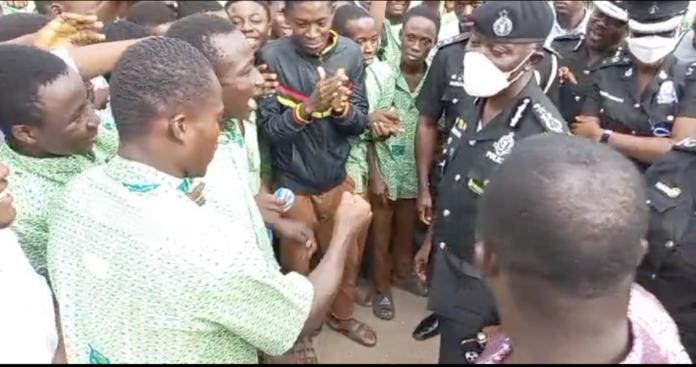 Four police officers are under service inquiry for passing remarks deemed Islamophobic, following the disturbances at the Islamic Senior High School in Kumasi last week.
The alleged comments by the on-duty officers who were recording the incident captured on a Closed Circuit Television (CCTV) screen with a mobile device have since gone viral, sparking uproar among members of the Muslim community.
A delegation from the Ghana Police Service which visited the Zongo Chief of Kumasi, Alhaji Umar Sulta Farouk has confirmed that the four officers were interdicted after the attention of the office of the Inspector-General Police (IGP) was drawn to the said video.
Senior Police Officer, DCOP Mohammed Suraji who doubles as the Ghana Police Operations Commander led the delegation on behalf of the IGP, Dr. George Akuffo Dampare.
"The video went out and instead of them to protect us and talk about how the whole blockade came about to help us with investigations, they [Police] were saying they're not good. The Islam people like trouble. It doesn't represent Ghana Police well. So it's about apology. IGP just as you did for the first one, these ones have also been interdicted. All the four including the Chief Inspector."
"We've asked them to step aside so that we can investigate to know why they made such statements. It's unprofessional so we support the IGP for taking that decision. The regional commander also supports him to send a signal to everyone not to denigrate the uniform. We are custodians of the law. It doesn't mean we are above the law."
"So that decision is the reason the IGP sent me here to come and inform you and also apologise to you and everyone that we are treating this thing with contempt because it doesn't represent the Ghana Police Service," DCOP Suraji said on behalf of the IGP.
Source: Onuaonline.com|Ghana