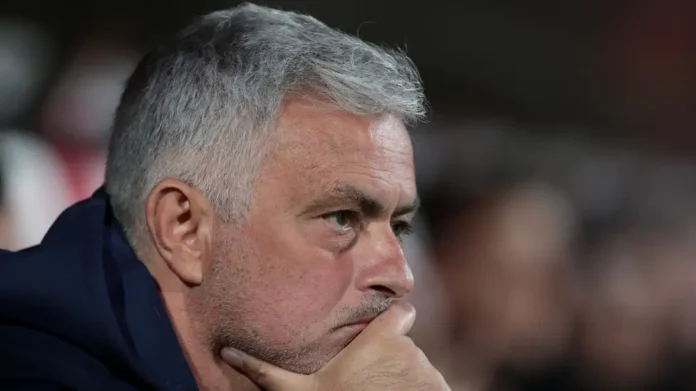 Jose Mourinho has claimed Roma have 'already won' the Europa League as they are the last remaining team to have started in the competition.
After winning the first leg by a goal to nil against Bayern Leverkusen, Mourinho says they have already won the trophy.
WHAT HAPPENED?
Ahead of Roma's Europa League semi-final second leg with Bayer Leverkusen, Mourinho stated in his pre-match press conference that his side had already won the competition because they have been there from the very beginning, unlike those who drop down from the Champions League, like Leverkusen.
WHAT THEY SAID:
"If I did not have the ambition of trying to win, it would be very easy for me to say now that we have already won the Europa League," he said with tongue in cheek. "Because if the Europa League is for the teams that started this competition, then Roma have won.
"However, that is just theory, our objective is to win. I want to make very, very clear my respect for Bayer Leverkusen as a team, but there is greater value for a side built to play in the Europa League and has had 14 games in the Europa League rather than a team that made the investments to play in the Champions League group phase," he added.
THE BIGGER PICTURE:
Mourinho is close to taking Roma to their second straight European final, and his sixth overall. Roma go into this tie having won the first leg at 1-0 at home and are favourites to go on to win the entire competition.
"The past is the past, we do not know the future, so this is the present and that's what counts. At Porto I had two European finals in successive years. I really want to reach this final now, not for me, as I have become a different person who thinks more about others than about myself. I want it for the lads and the fans," remarked Mourinho on reaching the final.
WHAT NEXT FOR MOURINHO AND ROMA?
Roma and Mourinho face the second leg on Thursday before returning to Serie A action against Salernitana on Monday.
Source: Goal