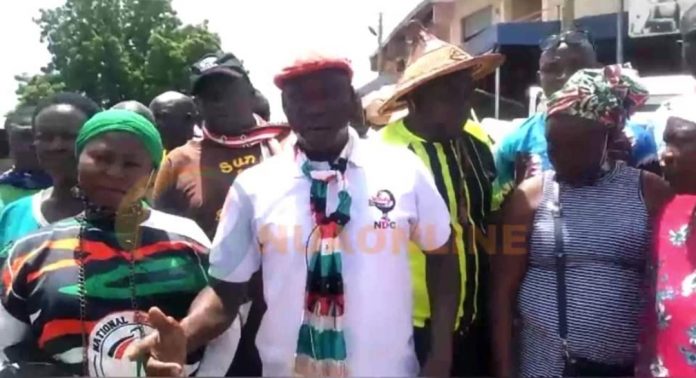 Leadership of the opposition National Democratic Congress in the Upper East Region have expressed the need to rule Ghana with the principles of the June 4 revolution when given the nod in 2024.
They declared the intention during the celebration of the 43rd anniversary of the revolution with Cadres, a group in the party.
According to the executives of the party in the region, the current state of affairs need the principles of the revolution to put the country back to track.
Speaking with Mohammed Ibrahim Tanko, Onuaonline's Upper East Regional Correspondent, Regional Secretary of the party, Donatus Akamugri, noted the "NDC is built on the foundation of June 4 and 31st December revolution so the core value of NDC is probity and accountability. So the obvious thing is that once NDC is in power, we'll call for accountability, transparency, good governance, inclusiveness, [and] participatory democracy."
"We are not like the so-called democrats who are benevolent dictators today, where people cannot express their views on issues and when you comment on government conduct, then your life is at risk," he added.
Senior Cadre and former Upper East Regional Minister, Prof. Avea Nsor also spoke at the event.
About June 4 revolution
The June 4 Revolution was an uprising in 1979 that arose out of a combination of corruption, bad governance, frustration among the general public, and misunderstandings within the Ghanaian army.
On the night of June 3, 1979, junior military officers including Major Boakye Djan broke into the jail where Jerry John Rawlings was being held and freed him, and ostensibly marched him to the national radio station to make an announcement.
The first time the public heard from Rawlings was a now legendary statement that he Rawlings had been released by the junior officers and that he was under their command. He requested all soldiers to meet with them at the Nicholson Stadium in Burma Camp in Accra.
43 years down the line, some group of Cadres and members of the NDC have marked the day with a clean up exercise to remind the government of what caused the June 4 Uprising.
They, therefore, vowed to fully revisit the uprising principles for economic transformation.
Source: Mohammed Tanko Ibrahim|Onuaonline.com|Ghana