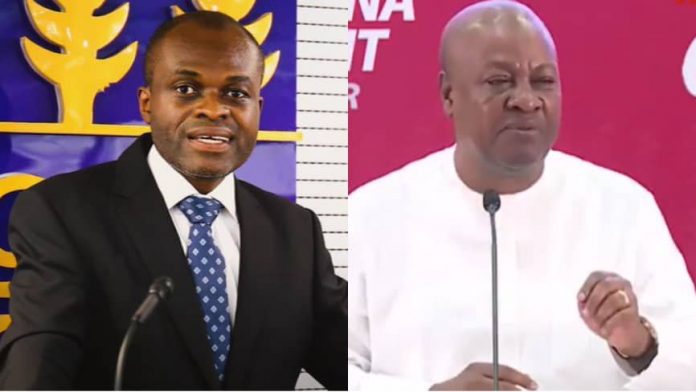 Until John Dramani Mahama returns the ex-gratia the state has paid him, he is not credible to become President again, private legal practitioner, Martin Kpebu, has reiterated.
The lawyer, who earlier supported calls by some Ghanaians for the former President to return his ex-gratia to affirm his commitment of living up to the promise of scraping the emoluments in his second coming, has now said John Mahama would not even be credible for the office without returning the money.
READ ALSO: 'Why not return your ex-gratia as Togbe Afede did? – Kwaku Yeboah quizzes Mahama
After making the earlier comment on TV3's the Key Points Saturday, March 4, 2023, John Mahama responded to him by describing his comments as "silly."
The former President also asserted he cannot pay the money because he has already spent it and cannot refund because he is a pensioner and the state doesn't warrant him to engage in profit-making ventures.
"I have spent the money already and now I am a
Pensioner, where am I going to get that money to pay back? am unemployed but they say bring yours to show you have good faith, I have no source of income, and you say I shouldn't work.
"They say the President should not hold the office of profits so you gave it to me, I spent it then you come and say I should refund it, where am I going to refund it from?" he had indicated.
But Mr. Kpebu has hit back at the former President, asking him to return the money from proceeds of his campaign donations.
"Until he returns all his ex-gratia, he is not credible to be President again," he said on Accra-based Neat FM Wednesday, March 8, 2023.
"He [John Mahamal can use his campaign donations money to pay back some of his ex-gratia. Until then, he is not credible," he was emphatic.
READ ALSO: Mahama describes Kpebu's comment to return ex-gratia paid him as silly
By Felix Anim-Appau|Onuaonline.com