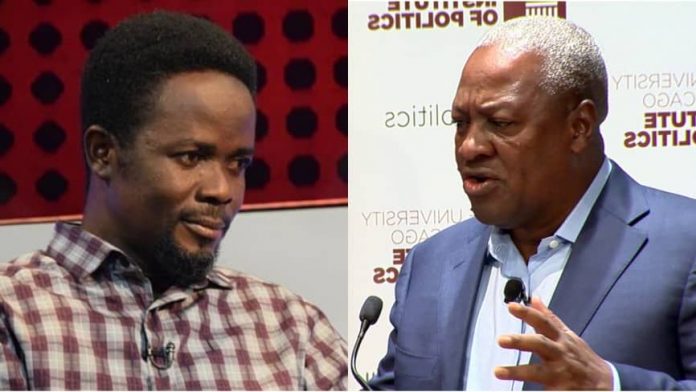 Dan Kwaku Yeboah, a sports journalist with the Despite Media Group has called on John Dramani Mahama to emulate the steps of Togbe Afede XIV for Ghanaians to take him serious.
The journo wants the former President who is seeking to bear the flag for the opposition National Democratic Congress to return every ex-gratia he has been paid for Ghanaians to know there is some level of commitment to his promise of scrapping the emolument when re-elected.
John Mahama during his campaign launch at the Cedi Auditorium at the University of Health and Allied Sciences in Ho Thursday, March 2, 2023 promised to scrap the emoluments Article 71 holders receive when on retirement.
READ ALSO: Debt Exchange Programme: Labour Federation wants Article 71 Office Holders take 50% haircut, ex gratia payment reduced by 70%
The ex-gratia which has become a controversial provision in the constitution for several years, according to John Mahama will be one of the things he will earnestly tackle in the early days of his leadership if Ghanaians grant him the honour to lead them again.
He also indicated his government would work to scrap ex-gratia benefits given to appointees under the other arms of government.
"The payment of ex-gratia to members of the executive under Article 71 will be scrapped. And the necessary constitutional steps to abolish that payment will start in earnest in 2025.
"We will also begin the process of persuading the other arms of government other than the executive to accept the removal of this ex-gratia payment," he said.
Reacting to his promise, Dan Kwaku Yeboah who casted some doubts opined the statement is enough a message to win Mahama the 2024 polls if he proves it by example.
Just as the Paramount chief and Agbogbomefia of the Asogli State did, Dan Kwaku Yeboah wants Mr. Mahama to follow suit to distinguish this statement from the one he made in 2015 which he didn't honour.
He was speaking on Ɛkwanso Dwoodwoo on Peace FM same day the former President made the promise.
"You said it in 2015, the time you were in government, but you couldn't scrap it, now that you're on the bench (in opposition) you want to scrap what? Bring the ones that you've taken to set an example of what you're saying.
"If the former president brings his ex-gratia, Kwame I will campaign for him, I will clap for him. Let him say he's doing what Togbe Afede did, so he's also doing the same…Kwame this is a big campaign message.
"I wanted him to set an example, actions speak louder than words….Togbe Afede is a human being, and Mahama is also a human being, so why not return it as Togbe Afede did?" he quizzed.
READ ALSO: Stop taking 'illegal ex-gratia' emulate Togbe Afede – Ransford Gyampo to Council of State, others
By Felix Anim-Appau|Onuaonline.com