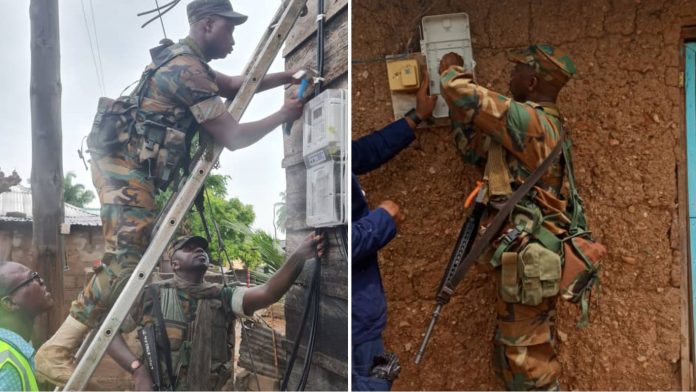 Chief of Dorm-Memlesi in the Lower Manya Krobo municipality, Nene Muala Bediako Baah III has bemoaned the raiding of Krobo land with gun-wielding military men.
The chief says Krobo is not at war for the military to be parading their vicinities with guns.
He was speaking on Onua TV/FM's Maakye on Friday June 17, 2022 when Akua Sarpomaa visited his palace at Dorm-Memlesi.
Nene's comment is in reaction to the installation of prepaid metres by the ECG in the company of 50 gun-wielding military personnel.
Even though the ECG claim the military are engineers who are assisting them with technical support, many have condemned the approach they have adopted in fixing the metering challenge in the area.
"We are not at war but they have brought Military men here under the guise of engineers. Do engineers wield guns?," Nene quizzed.
He added that he as a chief cannot subvert the will of his subjects since he source his authority from them. He therefore supports their rejection of the installation of the prepaid metres. However, he has asked his people not to mete out any violence behaviour to those doing the installation.
"I'm the chief and I get my power from my people so they will decide. If they say they don't want it I can't do anything. I can't suppress their power. I've told my youth not to engage in vandalism but it is their civil right to show their disapproval."
Residents of Dorm-Memlesi and other places within the Lower Manya Krobo yesterday staged a walk in commemoration of the lives they lost during their stand off with the police in June 2020.
According to the chief, the fracas that ensued between the residents and the Electricity Company of Ghana (ECG) resulted in some casualties and severe injuries that maimed some people.
He revealed that upon the ECG's return to their community, this time around with fully armed military personnel, they were reminded of the previous incident and embarked on a walk in remembrance of the lost souls and those injured.
"What happened yesterday reminded us of June 2020 incident where two persons died including my own cousin. Some were also amputated. So yesterday the military presence reminded us of the issue so we were remembering them. That time it was the police who shot and killed people. They also injured many. But soldiers have been trained to kill so the casualties would have been more if anything like that happens again. That's why we had that walk," the chief explained.
As Nene indicated earlier, an encounter between the police and residents of Krobo over electricity billing caused a mayhem which led to the destruction of the ECG office in the area, where the police also killed some people and injured many.
Five years down the lane, the ECG has stormed Krobo to replace their post paid metres with prepaid ones with heavily armed military men which the residents are objecting.
Nene Baah Bediako has noted that: "We needed much education from ECG before they embark on the exercise but they didn't."
"My people have shown they're not ready for the prepaid metres. We don't want it. If my subjects don't want it, I don't want it too. Our community isn't an industrial area where people are remunerated on a period basis to buy prepaid when it finish. Even if there are issues with the post paid, they should fix them for us," he told Akua Sarpomaa in his palace.
Source: Felix Anim-Appau|Onuaonline.com|Ghana