Franklin Cudjoe, founder of the IMANI Centre for Policy and Education, has taken a swipe on the castigations being levelled on the publishers of a Basic 4 textbook seen to be denting Christianity and religion as a whole.
The IMANI President in a Facebook post Friday, May 26, 2023, said evidence of things he has seen being influenced by religion corroborates what the infamous textbook says about Christianity in Ghana and that the authors of the book must be left alone.
According to him, the gullibility of some people in certain things as long as they stem from religion is enough grounds to allow the contents of the controversial book hold.
"In one of the theatrical episodes of 'spiritual' insanity, Pastor Obinim is seen mocking one of his followers he visited in her 'dream' (as an angel he claims) to gift a loaf of bread.
"The lady brings the bread to church, and insists all she ever wanted in her life was a loaf of bread or 'paanuuu' as she is heard repeating at the jest and choral direction of Obinim.. and in open adulation by unsuspecting congregants, they all shout 'paanuu', 'paanuu', 'paaanuu'…Asylum! Religion can be better.
"Leave the authors of the history book alone," he said Friday.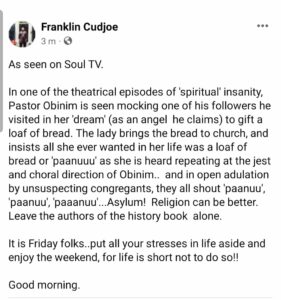 Background
Parts of the contents of a basic 4 history textbook sparked controversy following concerns raised by some parents of the Christian faith.
The Francis Benjamin Appiah and Henry David Appiah authored book titled History of Ghana for Basic Schools has a section of it highlighting some negative effects of Christian missionary activities.
Among the points stated in the book is that Christianity has led to an increase in poverty in Ghana.
READ ALSO: Christianity has increased poverty in Ghana – Textbook for primary 4 pupils sparks controversy
The book goes on to attribute the physical and doctrinal disputes in Ghana as by-products of religion.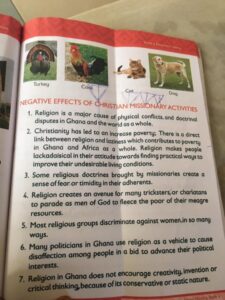 The contents has created worry among some parents and ignited a debate regarding how Christianity and religion as a whole are portrayed in the National Council for Curriculum and Assessment (NaCCA) approved book.
Some Civil Society Organisations in the education sector such as Eduwatch and the Institute for Education Studies (IFEST) have also raised concerns about such a book being approved by the curriculum gatekeepers, NaCCA.
Meanwhile, the Deputy Minister of Education, Rev. John Ntim Fordjour has condemned the authors of the book saying Christianity and religion play a vital role in Ghana and should be talked about cautiously.
READ ALSO: Deputy Education Minister condemns Basic School textbook vilifying Christianity