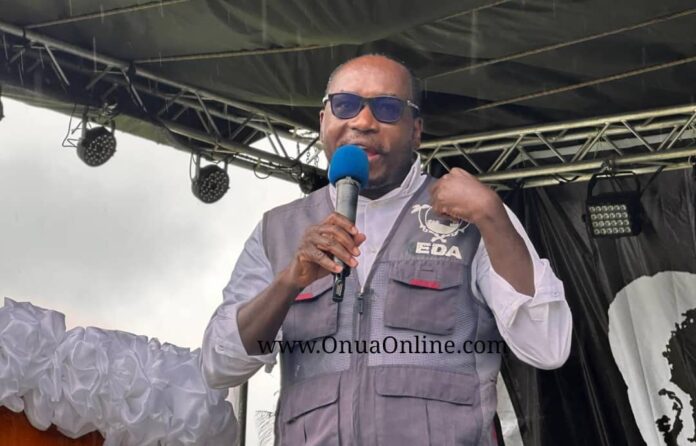 The District Chief Executive of Ellembelle in the Western region, Kwasi Bonzoh, has suggested that the day earmarked for reminiscing the contributions of Osagyefo Dr. Kwame Nkrumah to Ghana should be used as a day of thinking to find solutions to the numerous problems bedeviling the country.
The DCE says there are many challenges facing the country from the community base to the national level but are not being addressed because leadership have failed to think through them.
Eulogising the Osagyefo for his exploits for Ghana at the 'Journey to Nkroful' grand durbar in recognition of Nkrumah's legacies, Mr. Bonzoh said just as Ghana's first president is being celebrated even years after his demise, it is his works and vision that have transcended over the years to warrant such an honour.
He implored leadership, both traditional and political, to emulate the Osagyefo trajectory to resolve Ghana's teeming challenges since every problem has a solution.
"We are here to observe a great man and a great day. We are here observing the works of Kwame Nkrumah. One may ask, Nkrumah died so many years ago, so why are we here today? We are here today because of the great works that he did.
"Nkrumah is not just the first president of Ghana. He is a global icon and we need to celebrate him.
But we are celebrating him because of two things; his vision and his works.
"As leaders, both political and traditional leaders, it beholds us to emulate the works of Kwame Nkrumah. Beyond all the good speeches here we are doing today, beyond all the funfair, what matters most is what we will do as leaders of this country. We need to roll up our sleeves and work very hard just as Nkrumah did, to solve all the problems that we have.
"Nana mentioned the problems we are facing as a community, district and as a nation. These are problems that we are aware. These are problems that have solutions and as leaders, I'll suggest that anytime we mark Nkrumah's day, we'll remind ourselves that we are here marking this very day because somebody worked very very hard.
Let's put on our working gears, let's us put on our thinking caps because all the problems have solutions," he urged Saturday, September 23, 2023.
READ ALSO: Founders' Day Founder's Day debacle: Nkrumah's family 'head' spite Ghanaian leaders for derailing their son's legacy