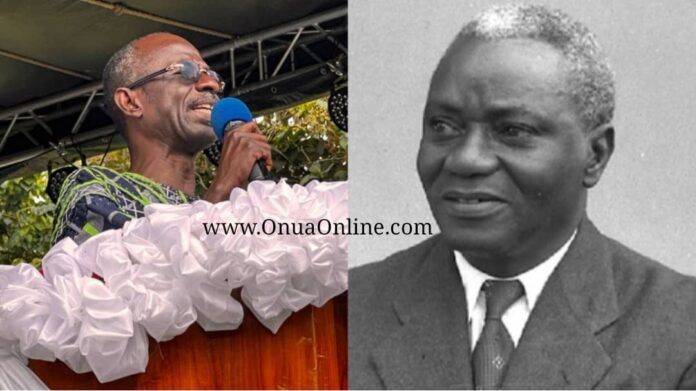 National Chairman of the opposition National Democratic Congress (NDC), Johnson Asiedu Nketia, has said Dr Joseph Boakye (J.B) Danquah did not propose the name 'Ghana' for the then Gold Coast as being speculated. 
Many history books have it that Dr J.B Danquah suggested the name Ghana to be used during the struggle for independence.
But Mr. Asiedu Nketia says it is not true. According to the NDC National Chairman, what J.B Danquah proposed was for Ghana to be called 'Akanland' to wit the land of Akans, years before freedom was attained. However, he said the name was rejected because Ghana was composed of many tribes which were not only Akans.
He explains that J.B Danquah's UGCC had collapsed, lost an election at Kyebi and did not have any access to the House of Parliament, the reason he gets baffled when people accord him as the proponent of the name.
Johnson Asiedu Nketia, speaking at the 'Journey to Nkroful' grand durbar to celebrate the birthday and legacy of Osagyefo Dr. Kwame Nkrumah Saturday, September 23, 2023, said J.B Danquah and his team had long been campaigning against the fight for independence and should not accord themselves any contribution towards the fight.
He said during the struggle for independence, "FD Anto formed a party called Tolimo who were fighting for the German colony not to be added to us. They were campaigning with JB Danquah and the UP not to allow those people join the Gold Coast. There was a blebicite which the YES won, making certain parts of the north become part of the Gold Coast which was renamed Ghana."
"And using the name Ghana, people are lying around that the name was proposed by J.B Danquah. The name he suggested even before independence was to call the then Gold Coast colony Akanland. The reason it was not approved was that the Gold Coast colony did not comprise only Akans. So it was not J.B Danquah that proposed the name Ghana. At the time we were gaining independence, JB Danquah's party had collapsed and he had lost an election at Kyebi which wouldn't grant his entry into Parliament. So where did he partake in a meeting to suggest the name Ghana? It is not true," he said in Twi.
He added that, "the Big Six they have been hailing for Ghana's independence are all not true. It is not true that they gained independence for Ghana because their party had collpased in 1951 before we gained independence in 1957. How would the dead party be the ones to gain independence for Ghana."
READ ALSO: Claims that Ghana's history cannot be written without Akyem intellectuals is intellectually dishonest – Asiedu Nketia