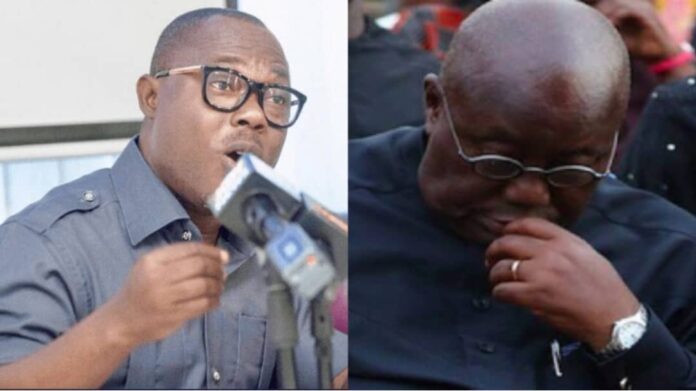 A political science Professor at the University of Ghana, Ransford Edward Van Gyampo, has asked President Addo Dankwa Akufo-Addo to relinquish the presidency if he knows he cannot continue leading the country.
He says the utmost disregard to the concerns of Ghanaians is so much such that, it would be better he hands over to an interim government if he cannot govern anymore.
His comments come on the back of the circumstances leading to the staging of the #OccupyJulorbiHouse demo and the fallouts during the process.
He says the President owes it a duty to bequeath to the nation the state he inherited Ghana from and not to leave it in the current state of confusion and chaos.
READ ALSO: Over 50 protesters arrested for defying order not to embark on OccupyJubileeHouse demo
Professor Gyampo says the Akufo-Addo government has assumed a stature of adamancy where the vociferations of the masses do not bother them.
Speaking on The KeyPoints on TV3 Saturday, September 23, 2023, with Alfred Ocansey, Prof. Gyampo noted it is the deeds of politicians that have made Ghanaians develop the attitude of stubbornness.
"President Akufo-Addo took this country at a time when we were intact. It is his responsibility at the barest minimum to leave the country for us intact.
"We don't want a country where because of the attitude of politicians not being concerned about what we say, we'll build a citizenry who would always be resorted to some of these things that bring about chaos and confusion," he cautioned.
He continued that, "if you're tired, just come and tell Ghanaians that we have another year but we think that we cannot continue. Let's see what we can do if we'll have an interim government but the attitude that they show demonstrate to me that now they don't care. You can say whatever you want to say, you can do whatever you want to do, we are on our way out. But that is not the social contract that we signed with them."
READ ALSO: 'Akufo-Addo; Commander-In-Chief of demonstrations detached from the realities on the ground' – Prof. Opoku Antwi