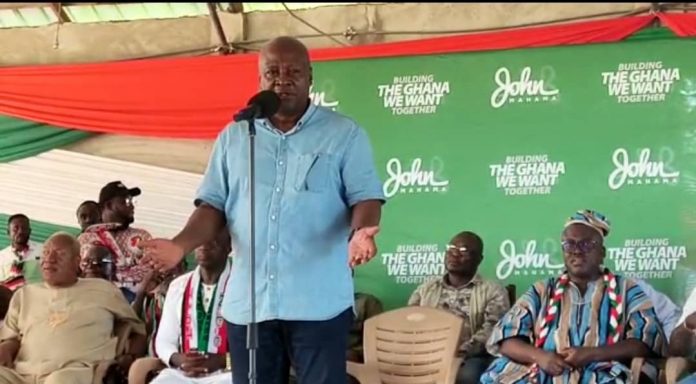 Former President John Dramani Mahama has assured that private senior high schools will be included in the Free SHS policy of the next National Democratic Congress (NDC) administration.
He believes government stands to gain from a collaboration with private senior high schools, as part of the implementation of the policy.
In the wake of the Free SHS in 2017, many private secondary schools had little or no admission due to the drastic shift in taste from Private SHSs to the public ones.
READ ALSO: Free SHS results better than 2016: Akufo-Addo defends increase in investment
The Free SHS policy compelled many parents who would have opted for better quality tuition and services in private schools to gain admission for their wards in public schools to relieve them of any financial liability.
Considering the current state of the Free SHS policy, Mr. Mahama believes a well collaborated effort will make owners of these schools stay in business and employ many Ghanaians to reduce the unemployment rate in the country.
He also recounted how such move will help the government who is struggling to provide infrastructure to end the double track system do so easily by using the facilities of the existing private schools to ease the burden on students.
READ ALSO: Over 500k BECE graduates absorbed by SHSs and TVETs across the country – Dr. Adutwum
Speaking at the Assembly Hall of Senior High School in the Gomoa Central constituency as part of his Central regional tour, the former President, John Mahama, said, including the private schools will be considered a priority in the next NDC government.
"We cannot have a facility like this and let them go to waste. We have done it with NHIS. NHIS we allowed private hospitals to be part of NHIS. Why can't we allow private secondary schools to be part of the Free SHS system. We can do it," he assured.
Speaking on the sidelines of the campaign tour, the Central regional Chairman of the party, Prof. Richard Kofi Asiedu, lauded the decision to include the private schools into the Free SHS policy.
"We have advised this government innumerable times about the need to include the private secondary schools in the policy but they are adamant. I'm happy John Mahama is thinking in our direction to save some of these schools that have collapsed or on the verge of collapsing," he told Assin Fosu-based Rich FM's Adwoa Kwanimaa.
READ ALSO: W/R: Drunkards Association to embark on a three-day education tour over recent misconduct from members
Source: Onuaonline.com|Ghana