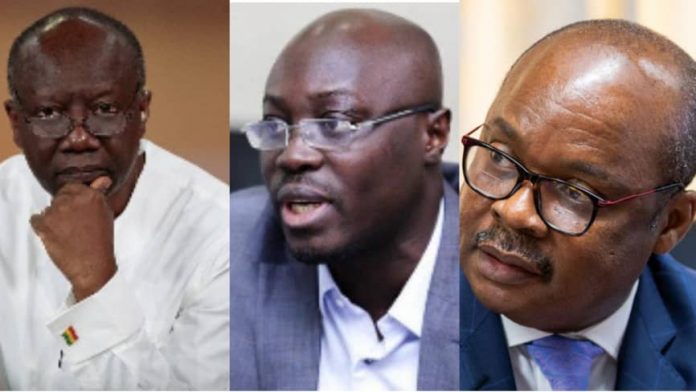 The Minority in Parliament is accusing government of conniving with the Bank of Ghana (BoG) to print to a tune of GH₵22 billion without the approval of Parliament.
It says the "fresh money" was used to pay workers between January and June 2022.
At a briefing with the media in Parliament Monday, July 25, 2022, the Ranking Member of the Finance Committee in Parliament, Cassiel Ato Forson, recounted how a document he intercepted detailed how the BoG issued the notes to government at the blind side of the citizenry.
"I just had a copy of the document itself only to realise that, between January 2022 and June 2022, the Minister responsible for Finance and the government has gone to the Bank of Ghana and they've encouraged the BoG to print money worth GH₵22 billion. They have printed GH₵22 billion fresh money without the knowledge of Parliament," he disclosed.
The former Deputy Finance Minister under the erstwhile John Mahama led government asserted the deed's resultant factor is the galloping inflation swallowing Ghanaians.
"No wonder inflation is galloping. No wonder our reserve position is dwindling. If this trend continues, I won't be surprised that we'll end the year with inflation of 50%. If this trend continues, things fall apart, the centre cannot hold," he concluded.
The revelation came after the Finance Minister touted the government for not asking for additional money despite the hard times the nation is enduring.
"We are committed to stay within the appropriation for 2022. In spite of the underperforming revenues and strong external headways, we are not seeking additional funds in this midyear review. We are determined to efficiently use the windfall from the upstream Petroleum sector to make up our revenue shortfalls and aggressively improve our revenue even as we rationalise expenditures," Mr. Ofori-Atta had told Parliament.
Meanwhile, the debate on the Finance Minister's midyear review will commence on Tuesday when both sides of the house would be looking at what the figures and facts are.
By Felix Anim-Appau|Onuaonline.com