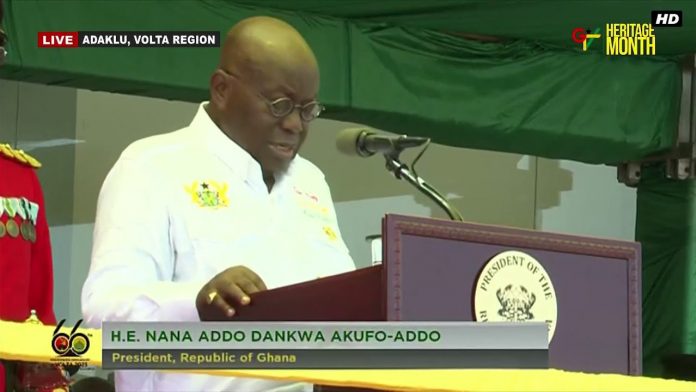 President Addo Dankwa Akufo-Addo has affirmed his resolve to put in measures to resuscitate Ghana's plummeting economy.
He says the measures his government has put in place will soon bring relief to Ghanaians irrespective of one's status.
Economies across the globe are taking a nosedive in progress with further decline expected in the years ahead due to the emergence of the COVID-19 pandemic, high inflation rates and Russia's invasion of Ukraine.
As a result, the world economy is expected to slow from 6 per cent in 2021 to 3.2 per cent in 2022 and 2.7 per cent in 2023.
The ongoing challenges facing the global world has not exempted Ghana.
READ ALSO: 'We have a long way to go' Akufo-Addo
Ghana's weakened currency trailing behind other currencies mostly due to government's weak finances is collapsing many businesses due to their inability to break even.
Speaking at the 66th Independence anniversary celebration Monday, March 6, 2023, at Adaklu in the Volta region, the President assured of his quest to resuscitate the ailing economy back to normalcy despite the enumerated challenges confronting the state.
"Government has deployed a number of fiscal interventions to help bring relief to Ghanaians. And I am confident that sooner rather than later, we'll see significant results of relief and recovery," he said.
An expatiation on the measures for better appreciation by the citizenry according to the President, would be delivered at the State of the Nation Address in Parliament on Wednesday.
"In two days, I will in the Chamber of Parliament deliver a message on the State of the nation. While there, I will delve into much greater detail the entirety of the package of policies government is implementing to bring back the days of rapid growth."
The 66th Independence Anniversary of Ghana was themed "Our Unity; Our Strength; Our Purpose."
READ ALSO: Akufo-Addo insists Russia-Ukraine war, COVID-19 are cause of Ghana's problems
Source: Onuaonline.com|Ghana