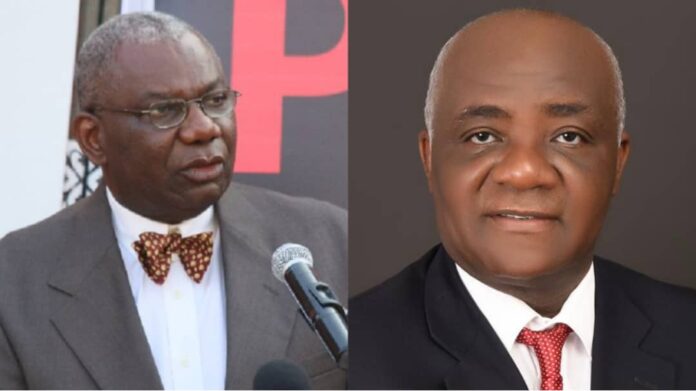 A failed presidential aspirant of the ruling New Patriotic Party (NPP), Kwabena Agyei Agyepong, has urged leadership of the party to allow all six (6) persons who made the top five after the super delegates' conference on Saturday, August 26, 2023, to go through the next stage of the exercise.
His comment follows the super delegates' conference by the NPP which had two candidates sharing the same position on the fifth slot.
As the party's constitution mandates, the 10 persons who expressed interest had to be reduced to five, but candidates –Boakye Kyeremanteng Agyarko and Francis Adai-Nimoh — were tied at the fifth position and would have to be split with a runoff on September 2.
But according to Mr. Agyepong who was also a contestant, the two persons have all qualified for placing fifth after the exercise, making them eligible to contest in his opinion.
Explaining his call for the inclusion, Mr. Agyepong says the 17 candidates who contested in 2007 necessitated the law to trim down candidates if they exceed five, and allowing six persons to contest after pruning down the 10 is not a figure so different from the five.
READ ALSO: 'The battle to win the November 4 polls has just begun' Ken Agyapong on NPP flagbearer race
Speaking on Midday Live Monday, August 28, 2023, on TV3, Mr. Agyepong indicated "if I had the opportunity, I will suggest that they should allow them to join. Six is not different from five so if they make that decision to continue with the battle, then, having six is not [bad]."
After all, the whole idea behind pruning down was because of the massive numbers that we saw in 2007 when I was the youngest of the 17 aspirants. And this time we had 10, which, some of us, in our view, we thought they should have allowed us to go straight on but the national council thought differently, let's have this super delegates', we've had it, now four are clean through, there is another two, I think they should be allowed since they are sharing the fifth position," he suggested.
He cited instances at the World Athletics Competition to buttress his suggestion.
"If you're somebody who loves sports and you've been following the ongoing World Athletics Championship, the pole vault medal was shared between two, the bronze medal in the high jump was shared, they all had it so I think they are fifth, they should be allowed to go through, there is no need in my humble opinion, to waste all the money, mobilizing all these 900 people getting the Electoral Commission to set up voting stations, just to select one. I think sometimes we are the people who make the constitution and the constitutions are made for the parties," he reemphasised.
READ ALSO: NPP super delegates conference: Ben Ephson predicts two aspirants among Adai-Nimoh, Joe Ghartey, Boakye Agyarko to join top 3 for November 4 showdown