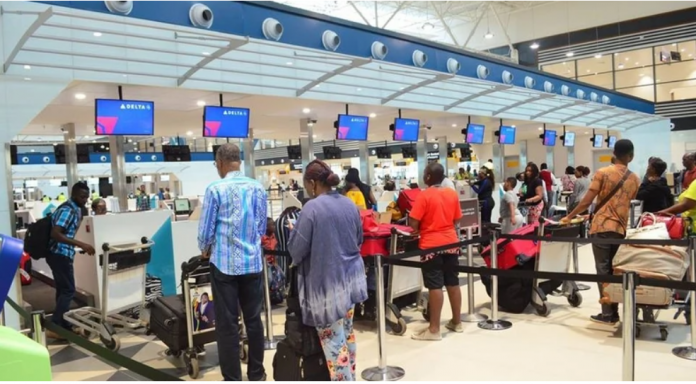 Africa Tourism Research Network (ATRN) has lamented the over-debauched attitude of some officials and workers at the Kotoka International Airport (KIA).
The Civil Society Organisation operating in the tourism, hospitality and travel industry have accused employees at the airport and other land borders for allegedly using brute force to extort money from travelers.
This, the organisation say, is based on several reports they have recieved from tourists.
President of ATRN, Emmanuel Frimpong speaking in an interview with Onua News Thursday, May 5, 2023, described the act as unlawful, embarrassing and inimical, stressing it only destroys the sector's potential to add to the local economy in diverse ways.
He says tourism over the years has proven to be a major source of revenue for Ghana but the poor attitude by the officials at the airport against the travelers would be detrimental to the growth of the sector.
The tourism consultant and analyst maintained that the act is becoming embarrassing, counterproductive to efforts being made to attract foreign direct investment as it discourages international travelers (tourist) to visit the country.
READ ALSO: Ludicrous and false! GHS responds to allegations over Covid tests at KIA
READ ALSO: Eye witness challenges account of Ghana Airport Co. Ltd over death of passenger from US
"Instead of these officers and workers at the entry points helping travelers with documentation they have rather turned their noble job into an opportunity to forcibly demand money from travelers for no reason whatsoever.
"The first experience of a tourist or traveler to Ghana is through our various entry points especially the Kotoka International Airport; and if nothing is done to correct this star-crossed act the tourism sector will surely collapse," he emphasised.
Emmanuel Frimpong, however, called on all authorities, officers and workers at all the entry points to Ghana, especially the Kotoka International Airport, to desist from this shameful act and be good ambassadors for Ghana.
He similarly entreated management of KIA to help make Ghana a destination of choice, a place where tourists would want to visit and as well to attract foreign direct investments into the country.
READ ALSO: Ben Brako slams gov't over Covid tests at KIA
By Maxwell Otoo|Onua News|Onuaonline.com