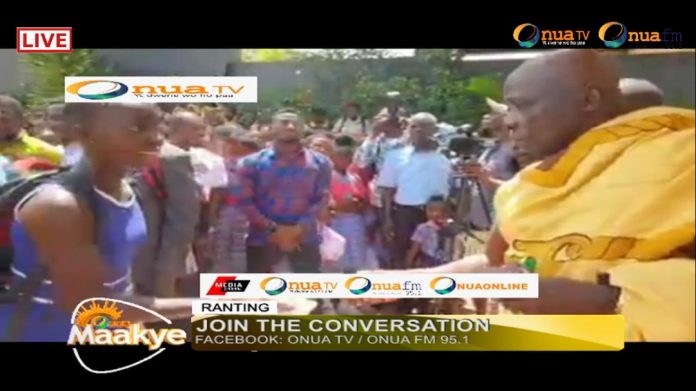 A video of Okyenhene, Osagyefo Amoatia Ofori Panin, sharing monies to school children has gone viral on social media from Wednesday, June 22, 2022.
The act was part of activities taken by the paramount chief of Akyem Abuakwa Traditional area for the ongoing Ohum festival.
In the said video, Osagyefo is seen sharing some notes to school children numbering up to about a thousand. Each pupil received at least GH₵20.00.
Varying reactions from netizens have greeted the action since its publication.
But host of 'Maakye' on Onua TV/FM, Blessed Godsbrain Smart, aka Captain Smart, has described the gesture as traditionally sacrosanct.
Explaining the act Wednesday, June 23, on his show, Captain Smart said the chief was performing a ritual bequeathed them by their forefathers.
Chiefs, he continued, used to carry monies in sacks and go round their communities to share, a rite performed to cast away any calamity that might be befalling the land.
However, he says the action of the Omanhene sends a strong message to President Addo Dankwa Akufo-Addo that children of Ghana need support.
Captain Smart furthered that monies that were presented to chiefs by the then Gold Coast governor, Sir Gordon Guggisburg, were used for similar purposes, which he believes might have influenced the 'Child Support' policies in the West.
That, the broadcaster said, is the reason the President should know the deed signifies children of Ghana need support, aside from the traditional connotations it carries.
"Traditionally, there is nothing wrong with what Okyenhene did. It was done by the chiefs in the olden days. But it also tells a different story. Okyenhene should let the president know that the children of Ghana need child support. This is what Kufuor did in his time and called it LEAP," he expressed.
The Livelihood Empowerment Against Poverty (LEAP) is a cash transfer programme introduced by the Government of Ghana (GOG) in 2008, for extremely poor and vulnerable households which have the following three categories of eligible members: Orphaned and vulnerable children (OVC) or, Persons with severe disability without any productive capacity and Elderly persons who are 65 years and above
Watch Captain Smart explain in detail, the origin of the act, it's meaning and significance in the video below.
By: Felix Anim-Appau|Onuaonline.com|Ghana