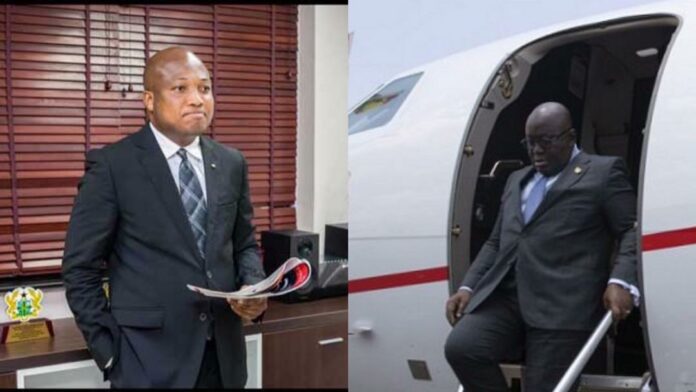 North Tongu Member of Parliament Samuel Okudzeto Ablakwa has said the decision by President Addo Dankwa Akufo-Addo to hire jets for his earlier trips was not necessary.
Mr Ablakwa who has been criticising the President for traveling on chartered jets indicated that Mr Akufo-Addo returned from his trip to the United States on Sunday, April 2 on board Ghana's Presidential Jet thereby making his earlier decision to travel with chartered jets unnecessary.
In a tweet, he said "Prez Akufo-Addo arrived in Ghana @ 4:07am today from New Jersey, USA aboard Ghana's Presidential Jet. The debate should now be settled for good — Prez Kufuor ordered a terrific long range Falcon 900EX absolutely fit for purpose. Oligarchic charters were needless! Ghana First."
RWAD ALSO: 'Slay me if Mahama becomes president again' – Man of God declares 
President Akufo-Addo was at the UN Security Council Chamber at the United Nations Headquarters in New York.
Speaking at the event Mr Akufo-Addo, whilst reaffirming Ghana's commitment to the fight against the global canker, also emphasised the urgent need for terrorism and violent extremism to be fought.
According to the President, the most recent report of the Secretary General on the threat posed by Da'esh to the international community, which was released in February this year, as well as the 2022 Global Terrorism Index, and the 2022 report of the African Centre for the Study and Research on Terrorism, all speak about an increase in the incidence of terrorism and violent extremism across Africa, with an attendant evolution in their modes of operation. Indeed, data on casualties on the continent is, particularly, sobering.
READ ALSO: Bantamahene urges government to empower chiefs to fight galamsey   
"It is for these reasons that Ghana reaffirms her condemnation of all acts of extremism and terrorism and urges the civilised world to do the same. Our common humanity and existence depend on it,'' he stated.
Source: 3News.com|Ghana