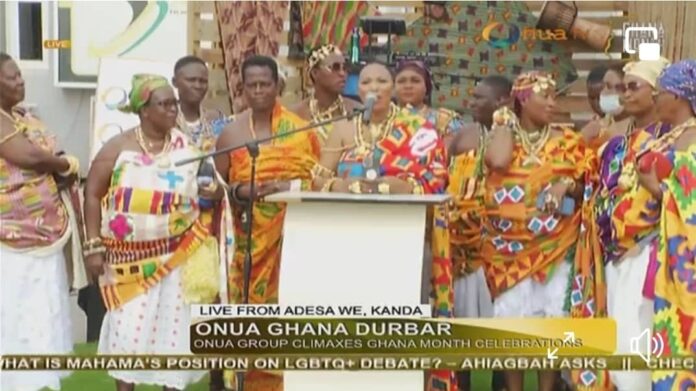 The Western region of Ghana is endowed with all the mineral resources the country can boast of and has therefore been identified with the saying "the best comes from the West."
The statement is something the region, together with the Western North, which was recently carved out, have prided themselves with until Friday, March 31, 2023.
Queen mother of Kansaworado, a suburb of Takoradi in the Sekondi-Takoradi Metropolitan of the Western region has taken a swipe at the assertion.
READ ALSO: Ambolley dazzles Onua Ghana Durbar patrons with live band music
Nana Akua Mansah III, who spoke on behalf of the Western region at the Onua Ghana Durbar last Friday said rather than the usual "the best come from the West", it is rather "the bad comes from the West."
According to her, despite all the resources the region can boast of, there is nothing positive to write home about in the region when it comes to development.
She told President Akufo-Addo to let them have their share of the national cake since the country belongs to all.
READ ALSO: Takoradi staged kidnapping & fake pregnancy: Court grants noncustodial sentence to accused because she is now pregnant
"The best comes from [the] West but we don't see it that way. The bad comes from [the] West. We plead. We have everything the country has been blessed with at the West but the region is nothing to write home about. It is not pleasant at all. We have gold, diamond, bauxite, manganese, cocoa, timber, petrol (crude) yet we don't see anything. We are pleading with the government to give the Western region some focus and extend it (development) to the [Western] North.
"Our roads, and even our chieftaincy issues have become something so just as he has looked at others own for them, he should turn to the West too. We plead with him that he grants us our part of the national cake because Ghana belongs to all of us," she pleaded in Fante.
Meanwhile, she expressed the need to commend the Onua Group and Media General for organising such an event to grant them the opportunity to voice out their grievances to the government.
"We thank Onua TV and Media General for giving us this opportunity to come and air our concerns to the government and also to display to the global world, what entails in our culture," she was grateful.
READ ALSO: 'Oligarchic charters were needless! The debate should be settled for good'; Okudzeto says after Akufo-Addo's choice of flight from US to Ghana
The maiden edition of the Onua Ghana Durbar was a convergence.of chiefs, queens, spiritual leaders and others to display among other things, the beautiful culture and tradition of the various regions in a generalised way.
It has become an annual event which would be organised on the last Friday of every March to climax the Ghana Month celebrations.
By Felix Anim-Appau|Onuaonline.com