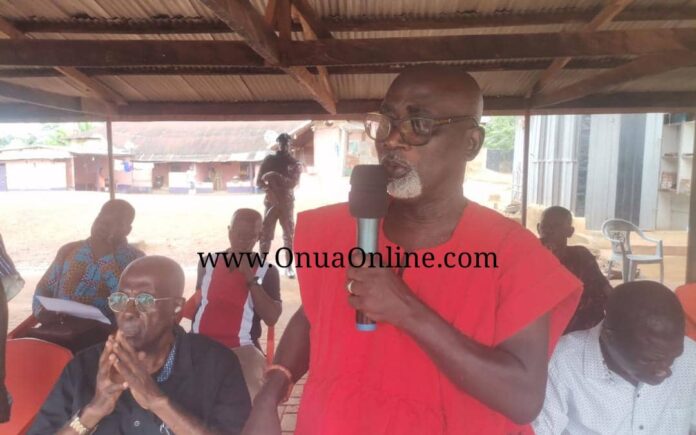 A group that identifies itself as Osino Concerned Citizens Association has demanded the removal of Osino chief, Osabarima Nana Otu-Darko IV.
The call comes on the back of what they have described as gross disrespect to Okyenhene Osagyefo Amoatia Ofori Panin and the people of Osino in the Fanteakwa South district of the Eastern region.
Outlining the rationale behind the move to oust the chief at a press conference, Chairman of the Association, Dr. Kofi Agyarko Danquah alleged that Osabarima Nana Otu-Darko IV has impounded people's farmlands and sold them for galamsey activities.
He expounded that due to reckless mining activities of the miners, river Birim and other main sources of water in the area have been heavily polluted.
Other accusations he leveled against the chief include abuse of authority by misuse and embezzlement of community funds and failure to account to the community since he became chief in 2015.
Below is the press statement released by group.
PRESS STATEMENT BY OSINO CONCERNED CITIZENS ASSOCIATION AGAINST THE CHIEF OF OSINO, OSABARIMA OTU-DARKO IV
Mr. Chairman, Honourable MP, Honourable DCE, Assembly Members, Nananom, Royal Family, Members of the Press, Osinoman, Ladies and Gentlemen, today marks an important milestone in the history of Osinoman. Most of you have been witnesses to the unfortunate lack of progress and notable presence of a chief in Osino for the past 8 years since Osabarima Nana Otu-Darko IV became the chief.
Several efforts have been made to invite our chief to community meetings, but all have proven futile. The letters that have been written have all gone unanswered. We have tried all other means to have a peaceful deliberation with him, but he has shown gross disrespect for the people of the town.
As many of you are aware, we were forced to report issues of embezzlement of community funds, among other things, to our overlord, Osagyefo Amotia Ofori Panin IV, hoping that Osabarima Nana Otu-Darko IV would listen to our overlord and take the necessary steps to account for the funds to the community and reassure Osinoman that he has our interests at heart.
After Nana was summoned before the Okyehene at the Kyebi Palace on Monday 10th July, 2023, he was ordered by Osaagyefo to meet with his people to render accounts. Osinoman, Ladies and gentlemen, you will agree with me that this would have been his first meeting with the community since he became the chief 8 years ago. Suffice it to say that after one month of radio silence, we sent a reminder to Nana, which has also been ignored for the past three
weeks. This was the final blow that hurt the community. We are here today, therefore, to give this update to our people and reiterate 20 reasons why Osinoman has lost confidence in Osabarima Otu Darko IV, the Osinohene.
1. He has abused his authority by embezzling an amount of GHS 667,044 in royalties paid to the community by Kibi Goldfields.
2. He has shown gross disrespect to the Okyenhene by refusing to render accounts to the community despite the Okyenhene ordering him to do so.
3. He abandoned the existing community account and set up one with unknown members and signatories.
4. He has never organised a single durbar to meet with the community to discuss
development projects.
5. After becoming Chief in 2015, he immediately dissolved the Town Development
Committee and has failed to form one to date.
6. Prominent subchiefs who played key roles in the community are no longer seen in the
community. The Amankrado, Sanaahene, and Kyidomhene are examples.
7. There's a total disconnect between the Chief and the Queen mother and between him
and our MP, who's a native of Osino. This is seriously affecting the development of the
Community.
8. He has seized people's farmlands and sold them for galamsey activities.
9. Due to the reckless mining activities of the miners, two of Osino's main sources of
water, the rivers Birim and Akusu, have been polluted and desecrated beyond reason.
River Akusu is clean upstream at Saaman and Juaso but gets heavily polluted at the
Osino section.
10. Under his watch, one Robert, a miner, came to mine extensively in Osino and left large
pits without reclamation. In spite of all this, the community did not receive a Cedi from
his mining activities.
11. He has failed woefully to ensure royalties are paid by Narawa Mining Company for
community development.
12. The community cemetery is in a very deplorable state due to neglect and galamsey
activities under his watch.
13. He has not done any projects for the community since becoming Chief.
14. The plot allocation and funeral committee members are close family members who have
been handpicked by the Chief, and they have never rendered any accounts to the
community.
15. He has refused to move to the Palace constructed by the community, which befits the status of the position of the Chief of Osino, who is the Mumuadu Sei.
16. He has been summoned to Court by a cross-section of the Osino community due to his intransigence and abuse of authority.
17. He has been using divide-and-rule tactics and intimidation to harass and threaten
members of the Community who try to insist on their rights.
18. He is autocratic and does not believe in building consensus. In spite of the large number of distinguished and eminent citizens from Osino who are ready to assist in Community improvement, he has refused to extend an invitation to them.
19. Though he has not done a single development project in Osino, he is known to have
acquired properties in Koforidua, Accra, and Asamankese, among others.
20. He is proud and arrogant and has been using the Okyehene's name as a cover for most of his actions and inactions in the Osino community.
In conclusion, the Osino Concerned Citizens Association, on behalf of the Osino Community, are
saying today, Friday, 1st September, 2023, that the good people of Osinoman need a real Chief.
Osinoman has resolved that Osaabarima Nana Otu-Darko IV can no longer be our chief. We are therefore asking the Royal Family to present us with a new trustworthy and progressive chief
who cares about Osinoman and can work with the stakeholders to bring peace, progress, and prosperity to Osinoman, Fanteakwa, and Okyeman.
Thank you.
By Maxwell Otoo|onua news|Ghana