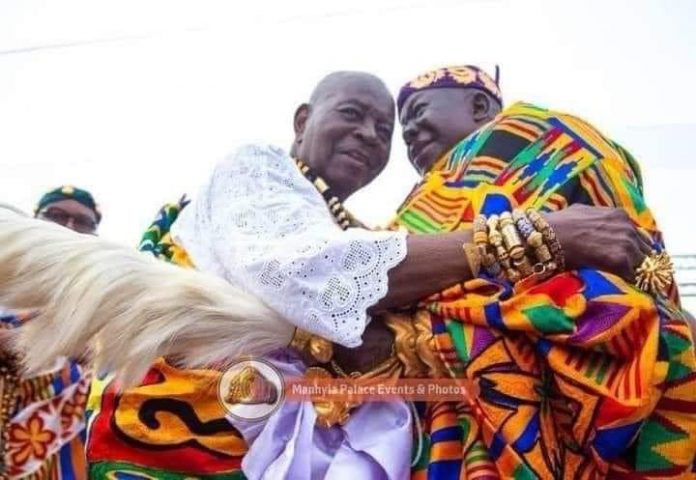 The Asantehene, Otumfuo Osei Tutu Ababio, has made a historic visit to Anlo to consecrate an alliance established between Asantes and Anlos in 1869 by their forefathers.
This was during the grand durbar of the 60th Anlo Hogbetsotso Festival held at the Avete School park at Anloga Saturday, November 5, 2022.
The Asantehene, in his address noted notwithstanding the Awɔmefia's honouring of his invite to Addae Kɛseɛ in Kumasi four years ago, his visit was not just that of reciprocity but also to declare to the world and Ghana how Asantes and Anlos have long history of alliance established by their forebears some 178 years ago.
"About four years ago, Togbe Sri III, Awɔmefia did us the honour of accepting our invitation to visit us in Kumasi.
The visit enabled us shine the light on the historic Asante and the Anlo alliance of 1869.
READ ALSO: Asantehene, Ga Mantse, Bawumia grace Anlo Hogbetsotso festival
"Today we've come to Anloga not just to reciprocate the visit of Togbe Sri III, but even more importantly, to declare to the nation and the world that Asante and Anlo solidarity and spirit and letter to the alliance consecrated by our forefathers over a 178 years ago," he disclosed.
He called for further unified celebrations to reaffirm the solidarity in the future.
"To mark the reaffirmation, I hope you'll establish the machinery for the celebration of the Ashanti Anlo solidarity the years ahead," he indicated.
Meanwhile, Otumfuo congratulated the Awɔmefia of Anlo, Togbe Sri III for visionary leadership that has promoted peace and unity in the nation.
"Our presence here is also a tribute to my brother, the Awɔmefia for his visionary leadership since he succeeded to the sacred stool of his forefathers.
"We have watched with admiration the unwavering commitment of Togbe Sri III not just to the welfare of his people but to the preservation of peace and the unity in our country," Asantehene lauded.
By Felix Anim-Appau|Onuaonline.com