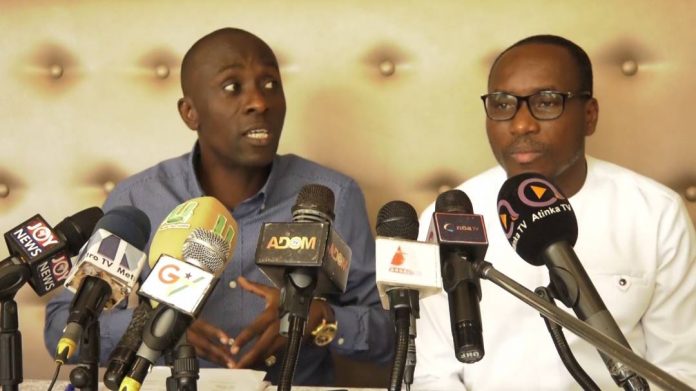 Head of Corporate Communications at Ghana Gas, Ernest Owusu Bempah has stated that he has not said anywhere that the DCE for Ellembelle, Kwasi Bonzoh has benefitted financially to the tune of GH₵8 million from Ghana Gas.
At a joint media meet by the two, the DCE also disclosed that his district had received just GH₵4.450 million from Ghana Gas.
The media briefing was to clarify issues resulting in the banter in the media between the two culminating in the Ellembelle DCE, threatening to sue Mr. Owusu Bempah for defamation.
At a joint press briefing in Takoradi, the two took turns to set the records straight where Owusu Bempah indicated he had been speaking about Ghana Gas' CSIR projects in the Ellembelle district on a radio station at Nzema when he disclosed that his company had given ₵8 million to the assembly.
He was therefore surprised when it was reported that he said the DCE had personally received GH₵8 million cedis from Ghana Gas. According to him, records from his outfit show an 8 million cedis financial commitment in the payment of business operating permits and property rates to the assembly.
"I Ernest Owusu Bempah, I have not said anywhere that Ghana Gas have paid physical cash of GH¢8 million to Bonzo K. personally. That is not true. Ghana Gas has not paid cash or any other amount to Bonso K.
"I've never said anywhere, and I have never said on any platform. What Ghana Gas does is that because Ghana Gas is situated at Ellembelle, we pay rent or property rate and Business Operating Permit to the District Assembly. In the cause of making those statements, there were some figures that were mentioned and the DCE also came in, and then it became some issue that we needed to clear," he clarified.
The Ellembelle DCE, Kwasi Bonzoh however disclosed that the Assembly had received only GH₵4.45 million from Ghana Gas Company. He said evidence can be deduced from the 2020 Auditor General's report which cleared the assembly of any financial malfeasance.
"Now the records have been set, the assembly as has been confirmed that it has since 2017 received a total payment of GH¢4.45million from Ghana Gas for the payment of property rate and business operating permit. All the money has gone into the District Assembly's account and not to my personal account.
"The assembly is a public institution whose account is audited every year. As an Assembly, we will continue to work together with Ghana Gas," he explained.
By Ebenezer Atiemo|ConnectFM|Onuaonline.com