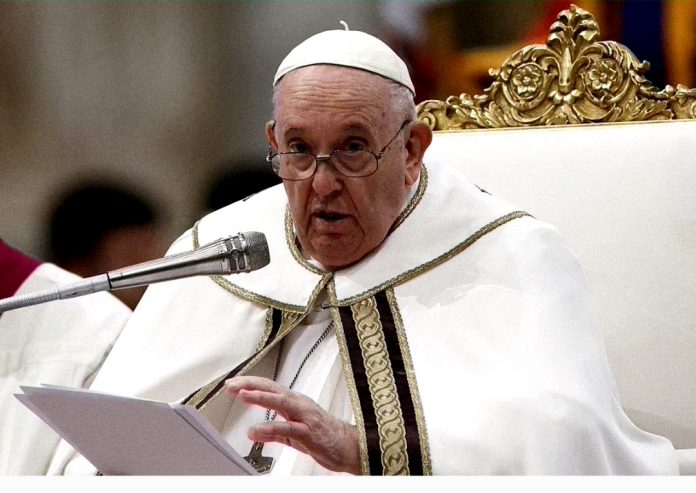 Pope Francis starts a trip on Tuesday to two fragile African nations often forgotten by the world, where protracted conflicts have left millions of refugees and displaced people grappling with hunger.
The January 31 – February 5 visit to Democratic Republic of Congo (DRC) and South Sudan, takes the 86-year-old pope to places where Catholics make up about half of the populations and where the Church is a key player in health and educational systems as well as in democracy-building efforts.
The trip was scheduled to take place last July but was postponed because Francis was suffering a flare-up of a chronic knee ailment. He still uses a wheelchair and cane but his knee has improved significantly.
READ ALSO: Being homosexual is not a crime – Pope Francis clarifies statement
Both countries are rich in natural resources – DRC in minerals and South Sudan in oil – but beset with poverty and strife.
DRC, which is the second-largest country in Africa and has a population of about 90 million, is getting its first visit by a pope since John Paul II travelled there in 1985, when it was known as Zaire.
Francis had planned to visit the eastern city of Goma but that stop was scrapped following the resurgence of fighting between the army and the M23 rebel group in the area where Italy's ambassador, his bodyguard and driver were killed in an ambush in 2021.
Francis will stay in the capital, Kinshasa, but will meet there with victims of violence from the east.
"Congo is a moral emergency that cannot be ignored," the Vatican's ambassador to DRC, Archbishop Ettore Balestrero, told Reuters.
According to the U.N. World Food Programme, 26 million people in the DRC face severe hunger.
The country's 45 million-strong Catholic Church has a long history of promoting democracy and, as the pope arrives, it is gearing up to monitor elections scheduled for December.
"Our hope for the Congo is that this visit will reinforce the Church's engagement in support of the electoral process," said Britain's ambassador to the Vatican, Christ Trott, who spent many years as a diplomat in Africa.
DRC is getting its first visit by a pope since John Paul II travelled there in 1985, when it still was known as Zaire.
Source: Reuters