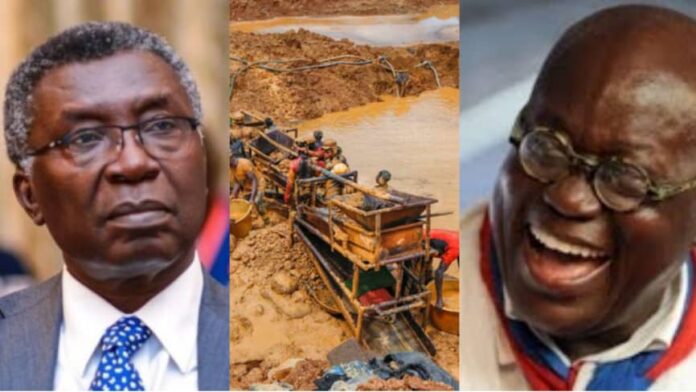 The Presidency has described as a "catalogue of personal grievances and claims", a 37-page document presented to the Chief of Staff, Akosua Osei Frema Opare about fallouts from the task given to the IMCIM.
The Inter-Ministerial Committee on Illegal Mining (IMCIM) was formed in 2017 to help monitor illegal mining activities and being perpetrators of the crime to book.
However, its Chairman, Prof. Kwabena Frimpong Boateng, who was then minister of Environment, Science, Technology and Innovation says most of the ministers on the Committee abandoned the assignment leaving only two ministries together with himself.
READ ALSO: Oppong Nkrumah implicated in another galamsey scandal? – Frimpong-Boateng expresses worry
The former minister, in the document handed to the Chief of Staff enumerated a herald of challenges they confronted especially from some government appointees including ministers of state and party stalwarts that impeded the Committee's work.
But reacting to the issues, the presidency has said the mode of delivery of the paper compromises its formality and should therefore be regarded as a hearsay and a tabling of personal grievances with some individuals whilst serving on the Committee.
"At the outset, it must be pointed out that the document being discussed was not an official report formally delivered to the Office of the President. On the contrary, it can only be rightly referred to as a catalogue of personal grievances and claims made by Prof. Frimpong-Boateng, intended to respond to some issues he faced as Chairperson of the IMCIM.
READ ALSO: Frimpong-Boateng exposes Otchere-Darko's façade of legal representation in shielding 'galamseyers'
"Indeed, the allegations contained in the document are at best hearsay. It is instructive that since Prof. Frimpong-Boateng's meeting with the Chief of Staff in March, 2021, he has taken no step nor acted in furtherance of the matters contained in the document," the April 21 release from the presidency indicated.
Meanwhile, the presidency says the report that was handed to Madam Frema Opare in an informal meeting after Prof. Frimpong-Boateng was not reappointed minister has no further evidence backing those it implicated for further action to be taken.
"It is important also to point out that, whilst Prof. Frimpong-Boateng makes serious allegations against some government appointees, as having been involved in, supporting or interfering with the fight against illegal mining, not a single piece of evidence was adduced or presented to enable the claims to be properly investigated."
READ ALSO: Have faith in me to turn the economy around – Akufo-Addo urges Ghanaians
Meanwhile, the presidency assured it is on course with the fight against galamsey and is ready to welcome all allegations with evidence to bring illegal miners to book.
By Felix Anim-Appau|Onuaonline.com