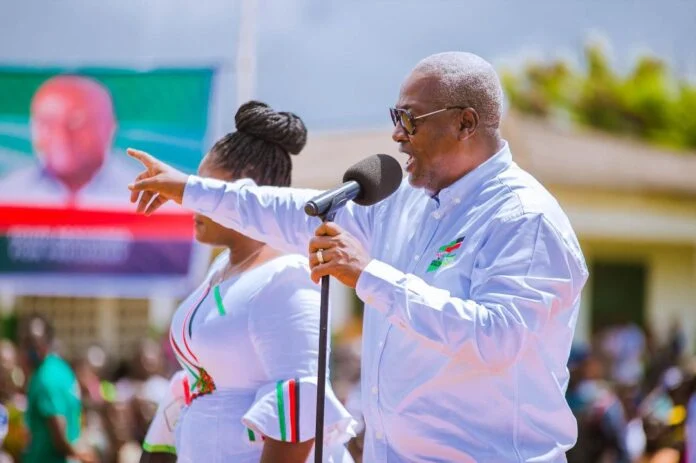 Former President John Dramani Mahama has reiterated his promise of governing with only sixty ministers should he be elected again to lead the nation.
He said the over 80 ministers and deputies the current government is ruling with is expensive and has drained the public purse.
He made the promise whilst commenting on the recent appointments by President Akufo-Addo in the Evalue-Ajomoro-Gwira constituency of the Western region during a campaign tour.
The visit forms part of his bid to canvas votes to lead the National Democracy Congress (NDC) in the 2024 elections.
READ ALSO: 'We will cut him to size' – Victor Smith warns Asiedu Nketia
The President recently appointed some six new ministers to fill vacancies of former appointees who have resigned on various reasons.
The NDC's primaries for both presidential and parliamentary candidates would be held on Saturday, May 13, 2023, across all the 275 constituencies in the country.
"Looking at how the government has ruin the country, when NDC comes, we shall manage the country with not more than sixty ministers in order to reduce government expenditure," Mr. Mahama said in Twi.
He also promised to reduce excessive trips by government appointees with huge budgets, asking that the citizens deserve leniency from the government.
For his part, the Member of Parliament for Evalue-Ajomoro-Gwira, Kofi Arko Nokoe recounted how difficult it was for him to wrestle the seat from the then New Patriotic Party (NPP) MP, Catherine Abelema Afeku, who was then a cabinet Minister.
He said he suffered to win the seat and will do all it takes to retain it for the party come 2024.
READ ALSO: 'Ghana's secularism does not make us Godless' – Chief Imam's Spokesperson
"This is a seat which is very difficult to win but in 2020, we wrestled it from the NPP. In 2016 after the election, the NDC power went down in the constituency. In 2018, I went to the party and told them I could wrestle it because everyone was afraid of the then NPP MP. I went round the constituency and I realised Axim was the challenge so if we are able to break that challenge, we shall win the seat," Mr. Nokoe recounted.
By Kweku Antwi-Otoo|OnuaNews|Onuaonline.com