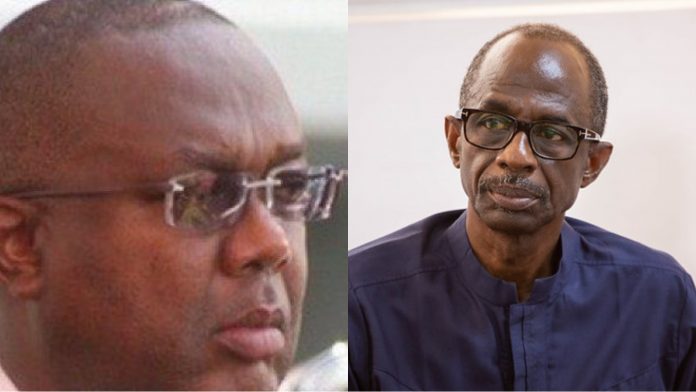 Victor Smith has issued a word of caution to persons that seek to sacrifice the interest of the National Democratic Congress (NDC) on the alter of parochialism, saying such individuals will be "cut to size."
The former UK and Ireland High Commissioner believes the interest of the NDC is paramount and should be prioritised above that of any individual.
His comments were based on the recalcitrance of the General Secretary of the NDC, Johnson Asiedu Nketia, who is contesting the current Chairman, Samuel Ofosu Ampofo despite advice from rank and file of the party to abstain.
READ ALSO: 'Vote out Asiedu Nketia, Ofosu Ampofo' – NDC National Chair aspirant
He asked what General Mosquito, as he is known in the political arena, is looking for after serving as the party's scribe for the past 17 years.
"You've been there as General Secretary for 17 years, what is it that you couldn't do as General Secretary that you now want to do?
READ ALSO: Mahama, NDC Council of Elders, myself advised Asiedu Nketia not to contest Ofosu Ampofo – Victor Smith
"Is it that he wants us to go to opposition so that he becomes leader of the party? It is very worrying we have to get to this.
"If the delegates choose him, we'll work with him but if he tries to do anything untoward, we'll cut him to size. If you try to ditch the party by pursuing your parochial interest, we'll cut you to size and this goes to everybody," he forewarned.
Mr. Smith whilst speaking on their upcoming Congress on Onua TV/FM's Maakye Wednesday, December 14, 2022, said he personally counselled Johnson Asiedu Nketia not to contest Samuel Ofosu Ampofo, the incumbent.
He continued that, former President of the Republic and 2020 flagbearer of the party, John Dramani Mahama also advised him to retain his scribe role for the party but refused.
According to Victor Smith, what went down the shivers of many was when the Council of Elders of the NDC added their voice to the plea but all to no avail.
"He called me and I told him to stay because that could bring some problems to the party and he didn't listen. John Mahama called him he didn't listen. He was referred to the Council of Elders and they spoke to both of them but he didn't listen," he disclosed to Captain Smart, host of the show.
Victor Smith noted that those contesting for the General Secretary position came out after General Mosquito had declared he wouldn't vie for the office again.
He said Asiedu Nketia would have gone unopposed if he had decided to retain his position.
"If he had stayed where he was, nobody would have contested him. All those vying for the position started talking to people when he said he won't go again," he was confident.
By Felix Anim-Appau|Onuaonline.com