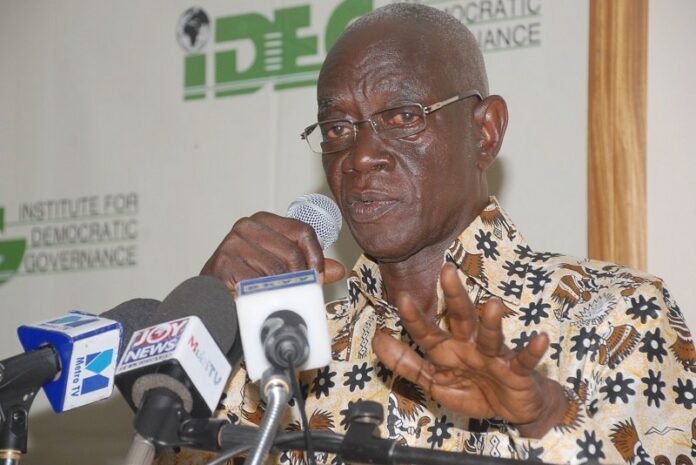 Dr. Kwadwo Afari-Gyan, a former Chairman of the Electoral Commission (EC), has advised the opposition National Democratic Congress (NDC) to return to the Inter-Party Advisory Committee (IPAC).
The NDC boycotted the IPAC in 2020 after alleging that the Jean Mensa-led Electoral Commission rigged the 2020 polls for the ruling New Patriotic Party (NPP).
According to Mr. Afari-Gyan, the IPAC is the medium through which the NDC can make input into decisions being taken by the EC to bind political parties and what the Commission is up to at any point in time.
"The IPAC makes it possible for political parties to know and make inputs to the important thing the Electoral Commission is doing at any point in time. It makes it possible to discuss the concerns of the parties and makes it possible to contribute to the making of subsidiary legislation, and I will appeal to the NDC to go back," he said whilst addressing the 3rd Annual Conference of the NDC Lawyers Association at Akosombo in the Eastern region.
READ ALSO: Afari-Gyan kicks against EC's CI scraping the guarantor system
The longest serving EC Chair in the Fourth Republic added that the NDC should go and make their ideas felt even if their inputs are rejected.
"Don't worry if your ideas are not adopted, please go there and make your ideas felt. Indeed, in some cases, IPAC is the forum for stakeholder dialogue towards achieving common ownership of the electoral system. Under Ghana's Electoral system, there are many opportunities for political parties to participate in Electoral processes that promote free and fair elections," Dr Afari Gyan counseled.
The NDC after the December 7, 2020, elections declined an invitation by the IPAC to discuss fallouts from the electoral processes on the basis of an alleged rigging of the exercise in the interest of the NDC.
The party issued a statement to justify their boycott of the Committee's April 21, 2021 invitation, saying it was to register their displeasure with the EC's biasness against them.
"The National Democratic Congress (NDC), declined an invitation by the Electoral Commission of Ghana to attend an IPAC meeting to review the 2020 Parliamentary and Presidential Elections which was scheduled for Wednesday 21st April 2021. The party took this decision because of the lack of candour, odious duplicity, and open bias that was displayed by the Jean Mensah-led Electoral Commission in favour of the New Patriotic Party in the conduct of the 2020 general elections.
"It is the considered view of the NDC, that the current leadership of the Electoral Commission who supervised the manipulation of the 2020 general elections and the stolen verdict that resulted from same, lack the integrity, credibility and impartiality to lead any such discussions or review of the very elections they rigged," the NDC said in a statement.
READ ALSO: 'You're just like Afari-Gyan – Captain Smart takes on Col. Damoah for attacking Special Prosecutor