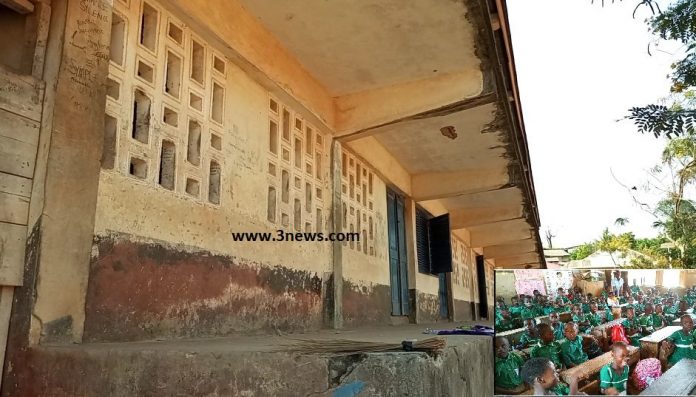 The Shama Catholic Junior High School in the Western Region has been closed down after mortar chippings fell on a student and injured her last week.
Arrangements to contain the over 300 JHS students is leading to lack of proper supervision, a shift system, erratic teaching and learning as well as a general sense of dejection on campus.
At 8:30am Monday at the Shama Catholic School Complex, pupils in Class 6 are having their first lesson and its English Language.
"A verb is a doing word or an action word," one pupil answers a question.
They are learning in a makeshift structure, formerly an eatery.
The structure has been divided into two to enable it host the pupils without any challenges. Other classes are also in session.
But the entire JHS block is under lock and key. It follows a directive from the Shama District education directorate for the school to be closed down after last Thursday's incident that left a Form 1 student, Elizabeth Adams, injured.
That incident is among many similar ones where both students and teachers have escaped harm by a hair's breadth.
With the JHS closed down, school authorities will have to look for a place for the over 300 students as the final students are being prepared for their final exams and this is coming at great cost to effective teaching and learning.
"We have moved both class 1 A and 2 A to a different place. We are hosting some of the final years in those two classrooms. Theirs is critical because we are preparing them for their final examination," headmaster Augustine Nyamekye said.
Other measures include a shift system for students in the primary and JHS 1 and 2 level.
"This is what we deem best under the current circumstances. Apart from the shift we don't know what we can do again to solve the problem."
Class was in session for final year students in their new classroom and they appeared to be adjusting to the situation as they were listening with rapt attention to their teacher, Clement, who read out a passage to them.
But the situation was worrying when the news team visited Class 1 and 2.
Class 1 A and B have been combined. The class population is now one hundred and ten and supervision is hellish.
"Sit down. Keep quiet," one teacher demands with dejection visibly written all over her face.
Class 2 A and B have also been combined. The two teachers had spent only 3 hours under the new arrangement and already they were tired. Here, they are also dealing with a class population of close to one hundred.
Management of the school on Monday called an emergency PTA meeting to announce the new arrangement to parents. Majority of them were not happy.
Elizabeth Adams, victim of the falling mortar chippings, is not doing well. She has missed three school days.
According to her mother, Elizabeth has not slept for the past three days. She complains of severe headaches and pains in the left arm, making her restless.
The news team met Elizabeth and the mother coming out of the CT Scan department of the Effia Nkwanta Regional Hospital.
Doctors at the Shama Hospital had referred Elizabeth to the regional hospital for a CT Scan after she reported of severe headaches.
Unfortunately, they could not do the scan. Cost of the scan is GH¢670. But Elizabeth's mother had only GH¢150 cedis on her.
The mother is not able to tell when they will come back for the scan, as she is currently not in the position to raise the needed amount for the scan and fears Elizabeth's case may worsen.
With her head bowed down and a worried mother, they returned to Shama to report to the PTA.
By Eric Yaw Adjei|Connect FM|Onuaonline.com|Ghana