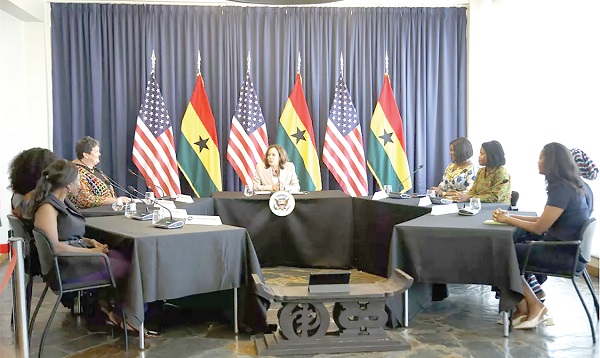 Captain Smart has rebuked Kamala Harris' $60 million fund intended to drive women entrepreneurship on the African continent.
The US Vice President, Kamala Harris, Wednesday, March 29, 2023, announced a $60-million global fund intended to address, among others, gender inequality and promote digital literacy.
The fund, known as the Women in the Digital Economy Fund, will be established by the Bill and Melinda Gates Foundation with the Joe Biden administration.
Announcing this whilst addressing some Ghanaian women leaders in entrepreneurship in Accra Wednesday, Madam Harris indicated the Gates Foundation, in addition, would invest $40 million towards the same drive.
"Beyond these, I am pleased to announce a series of other significant private sector commitments alongside the US government efforts.
In total, these investments represent more than $1 billion being dedicated to advance women's economic participation across the African continent," she said.
Reacting to the gesture, host of Maakye on Onua TV/FM, Blessed Godsbrain Smart, said, the amount, considering the number of countries on the continent, with its women, is a peanut and would not make any significant impact on women entrepreneurs.
Notwithstanding the "beggar has no choice" cliché, Captain Smart thinks Kamala should have considered the heads in perspective to provide something substantial that would have been more impactful to women in the region.
However, the Ghanaian leader, became the object of blame.
He chastised Ghanaian leaders for sitting aloof for Aisha Huang to transport volumes of rosewood worth several millions of dollars which would have propel this drive than the little over $1m Ghana would derive from the fund with the number of countries on the continent in perspective, all other things being equal.
By Felix Anim-Appau|Onuaonline.com