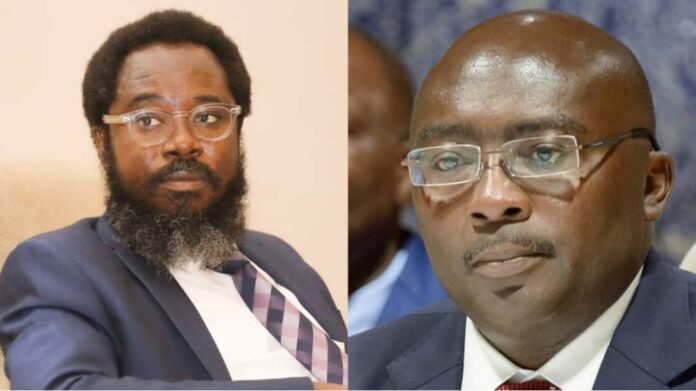 A political marketing strategist, Prof. Kobby Mensah, has asked the Vice President and flag bearer of the governing New Patriotic Party (NPP), Dr. Mahamudu Bawumia, to profess his own vision to Ghanaians rather than badmouthing what someone has proposed.
The University of Ghana Political Science Professor's message was delivered in a post on X, formerly Twitter, asking that someone advises the Veep to tell Ghanaians what he has got rather than launching attacks on someone else's.
His comment comes after the Vice President had, in a viral video, said the National Democratic Congress's flag bearer, John Dramani Mahama, does not understand what the 24-hour economy he has proposed is.
The Vice President went on to say that what the former president has proposed does not make sense.
According to Dr. Bawumia, there are many sectors of the Ghanaian economy that are already operating a 24-hour economy, therefore defeating the novelty of the idea as the former president wants Ghanaians to believe.
He went on to ask Ghanaians to forget about Mahama's promises and vote for him to roll out the new vision he has for the citizenry as proposed.
But for the political marketing strategist, Bawumia should rather let Ghanaians know his supposed new vision rather than unnecessarily attacking what another has proposed.
Can someone tell Bawumia to stop complaining about someone's 24hr economy and tell us what he's got 🤷‍♂️ 😜 #24HourEconomy https://t.co/EuVF8YJGCp

— Prof. Kobby Mensah (@thePOE_T) November 21, 2023
READ ALSO: 'That could be the game-changer' – TUC extols Mahama's 24-hour economy proposal