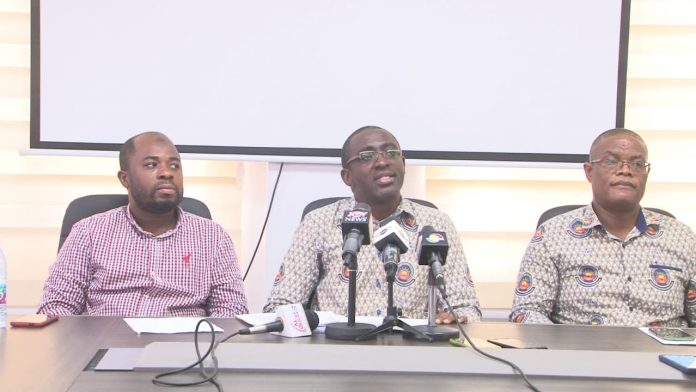 The Technical University Teachers' Association of Ghana (TUTAG) has issued a 10-day ultimatum to government to address members' concerns or be left with no option than to lay down their tools.
The Association described as blatant disregard on the part of government for not implementing the rulings of National Labour Commission (NLC) pertaining to members Conditions of Service.
"The issue of codified Conditions of Service for TUTAG members has been outstanding since 2016. TUTAG has patiently engaged government amidst a feet-dragging posture by the latter," national president of TUTAG, Professor Dr. Ing. Collins Ameyaw stated at a press conference in Kumasi Monday, November 7, 2022.
TUTAG is also unhappy with what they claim to be reluctance on the part of NLC to enforce its own ruling against the government.
"In a September 2021 ruling, the NMC directed that the effective date of payment of the Internally Generated Fund component of allowance should be August 2021 as negotiated and agreed by the parties and that implementation be done in January 2023 but intelligence picked suggests that the Vice Chancellors of Technical Universities Ghana (VCTU-G) is in backdoor negotiations with some government agencies to defer the effective date of the negotiated IGF-related Conditions of Service to January I, 2023, instead of August 2021.
"The action by VCTU-G amounts to unfair labour practice, especially when we have concluded negotiations on the allowances in question. We, therefore, advise the VCTU-G to desist from any such interference in the work of TUTAG to ensure industrial harmony on the campuses of the TUs," they disclosed at the conference.
On the issue of Book and Research Allowances, the Association vehemently registered its displeasure with the "unprecedented delays that have characterized the payment of the 2021/2022 Book and Research Allowances.
"Even though the MoF has issued the warrant for the release of these allowances, majority of our members are yet to be paid. TUTAG rejects this unjustifiable delay and calls on the Government to pay its members within this week," Porfessor Ameyaw noted.
TUTAG cautioned that, its members would not be able to guarantee industrial harmony on the various campuses if their issues remain unresolved.
"Government must take note of the overwhelming support for a strike action at a recently held Congress of TUTAG in Bolgatanga, should Government fail to address these concerns or engage TUTAG to have an amicable settlement of these issues within the next ten (10) days. After the expiration of this period, TUTAG will not hesitate in any way to declare a strike action should our concerns remain unaddressed".
By Ibrahim Abubakar|AkomaFM|Onuaonline.com