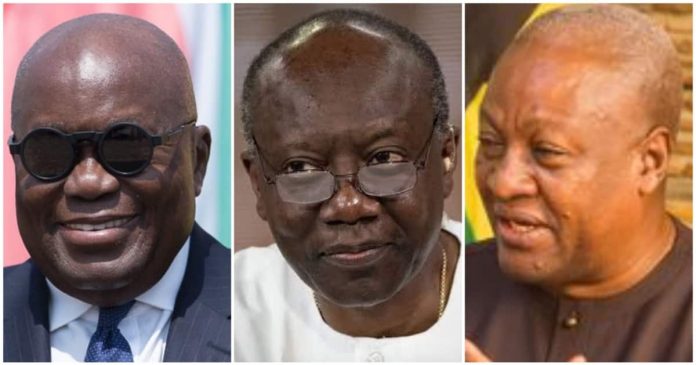 John Dramani Mahama has blamed Ghana's economic infractions on the fact that Finance Minister Ken Ofori-Atta is untouchable.
He has joined calls by the Majority and Minority for his resignation or sacking following his performance on the economy that is nothing to write home about.
"To be clear, we are in this mess because an untouchable finance minister, relying on his Databank workers, and neglecting the advice of seasoned experts at the Finance Ministry, has been left to run this economy into the ground.
"We are in this mess because a so-called "solid economic management team" over the last few years, has been unable to call the President's cousin to order when he embarked on a reckless borrowing spree, indiscriminate closure of indigenous banks and financial institutions, and creative presentation of economic statistics to make our situation look rosier than the reality.
"We are in this mess because we have a President who fails to take responsibility and has instead left the nation on autopilot in the hands of bungling ministers who he describes as "excellent", he indicated.
Speaking at the "Building the Ghana we Want" address to the nation at the University of Professional Studies-Accra (UPSA) Thursday, October 27, 2022, the former President bemoaned the political equalisation by propagandists who try to equate every deed of one administration with the other.
"There has been a desperate attempt at "political equalization" by propagandists and supporters of the Government – claiming that all political parties are the same. Subtly, they are attempting to suggest that no other person could have done better; or that all political parties in Ghana cannot be differentiated ideologically," he said.
He explained that "for the avoidance of doubt, we in the NDC will not have dared been as reckless, nor would we have been allowed to be as irresponsible in the handling of the public purse and the nation's resources as the NPP has been."
By Felix Anim-Appau|Onuaonline.com