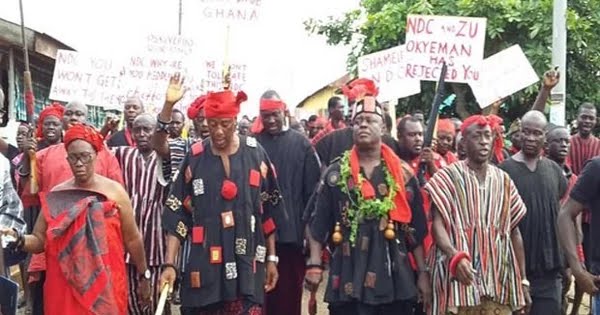 Kyebihene Osabarima Marfo Kwabrane has asked Chairman of the erstwhile Inter-Ministerial Committee on Illegal Mining (IMCIM), Prof. Kwabena Frimpong-Boateng to prove to the world where galamsey took place at the Kyebi township.
"He should come and show you where they were doing that galamsey and prove to the whole world," he told a group of journalists who were sent to Kyebi by the Presidency to verify whether galamsey took place at a garden near the President's residence.
According to the chief, the galamsey allegations are a ploy to tarnish President Akuto-Addo's reputation.
"We the Kyebi and the entire traditional authority are very uncomfortable. It's unpresentable, very bad that the man who has struggled for almost 45 years to build his name and now as he is about to leave the presidency, they're trying to destroy him. And it goes against the throne," he indicated.
According to the chief, they joined the media upon hearing of their arrival at the town for them to verify the claims together to ascertain the veracity or otherwise.
READ ALSO: [VIDEO] 'Stop the galamsey behind your palace' – Captain Smart charges Okyenhene
READ ALSO: Report on illegal mining cites Gabby Otchere-Darko for defending company engaging in galamsey
READ ALSO: Bosome Freho: An Asante Bediatuo from Flagstaff House fingered as one's eye pierced in galamsey brawl at Danso
"We are here to go round with you so that you publish your findings for the whole world to see that the man is decent and clean," he said.
A 37-page IMCIM report provided to the Chief of Staff by Prof. Frimpong-Boateng says one Eric Antwi from the Office of the President told him galamsey was ongoing at a garden behind the President's residence in his hometown, Kyebi, being undertaken by a party youth organiser of the constituency. The former Environment, Science, Technology and Innovation minister said after verifying the claim, they realised it was true and dispatched a bulldozer and an excavator to reclaim the land and got it vegetated.
But in a statement from the constituency Wednesday, April 26, 2023, the executives said there is no such activity that has gone on at the place as claimed by Prof. Frimpong-Boateng in the report.
At the journalists visit to Kyebi Thursday, April 27, the Kyebihene said:
"He (Prof. Frimpong-Boateng) should come here and he will come and see the whole thing. We need Prof. Frimpong himself to come here and direct you people, all the journalists that this is the place Akufo-Addo was doing galamsey. Then he proves to us. Then you close our statement that all that we are saying is wrong.
So we wish that that man will come here and make a fair statement to the whole world."
READ ALSO: Oppong Nkrumah implicated in another galamsey scandal? –  Frimpong-Boateng expresses worry