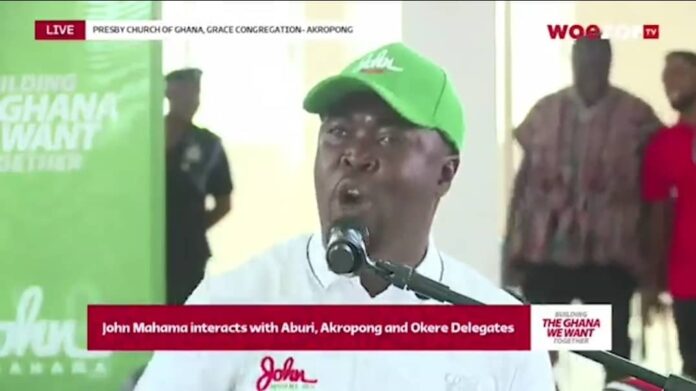 Eastern regional Chairman of the opposition National Democratic Congress, Mark Oliver Kevor, has expressed his conviction of flipping power from the ruling government come 2024.
Mr. Kevor during a tour of the flagbearer hopeful of the NDC, John Dramani Mahama in the region told delegates the ruling New Patriotic Party are aware they've lost the elections, but insisting "they will not hand over power to the NDC."
His comments come on the back of those made by Bryan Acheampong, Member of Parliament for Abetifi, who told party supporters at Mpraeso that the NPP was not going to hand over power to the NDC in 2024.
READ ALSO: Use Parliamentary language; don't speak like you're in a chop bar or market – Speaker Bagbin fumes
After a unity walk as part of the party's activities at the Easter festivities in the region, Mr. Acheampong was confident the NDC was in its way of collapse and the NPP have the men to turn the fortunes of the economy back to where it was prior to the emergence of the two external shocks –Covid-19 pandemic and the Russian invasion of Ukraine.
"If the NDC thinks of using threats, stupidity, brute force to do the 2024 [elections], we'll show them that we have the men.
"That this NPP party which is in power, to be on a platform to hand over power to the NDC, it will never happen, it will never happen, it will never happen!
"We'll adopt any means to ensure the NPP retains power in the 2024 elections," he said in Twi to party supporters.
READ ALSO: Captain Smart fires Apostle Nyamekye for leading prayers at galamsey site instead of calling for arrest
Reacting to the comments, Mr. Kevor noted the NPP are making such comments because they know they've already lost the polls.
He indicated they will face the NPP squarely to take power from their hands.
"They are not afraid of any candidate apart from John Mahama, they know they have lost power, they know power has changed hands and it's with John Mahama.
"As a regional Chairman, I can assure you that we will use any means to take power from the NPP. We will take it for John Mahama, we will face them boot for boot," he charged party faithful at the gathering.
By Felix Anim-Appau|Onuaonline.com