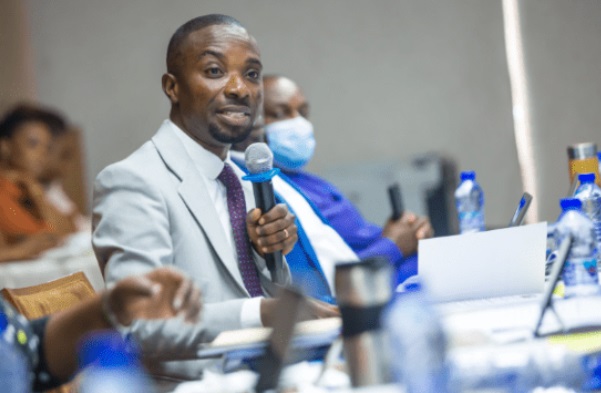 Director of Local Government Services at the Office of the President, Dennis Miracles Aboagye, has rendered an apology to the Chairman of the opposition National Democratic Congress for sharing an altered video of him. 
In a video shared by the Presidential staffer of the Chairman, Mr. Asiedu Nketia was purportedly admonishing members of the NDC to risk their lives for the 2024 elections no matter the cost.
But after realising the video he put out had been doctored, he has come out to apologise to General Mosquito.
READ ALSO: 'The Ambassador only gave us Ghana flags' – Nat'l Wheelchair Tennis team
He subsequently withdrew the earlier post and expressed remorse for any misunderstanding caused.
He tweeted: "I sincerely apologise and have subsequently removed the Asiedu Nketia Video I shared earlier. My attention has been drawn to an original video which clearly shows the earlier one I viewed and shared was doctored. Obviously, this version I saw and shared had been tempered with, which isn't right. I withdraw accordingly, with apologies."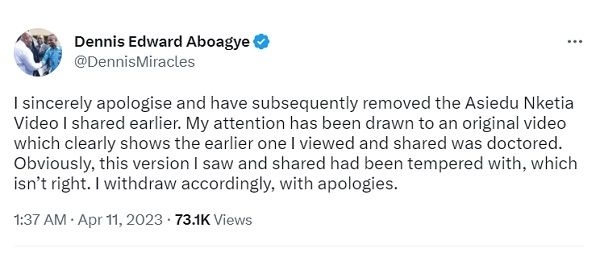 Mr. Aboagye had shared the visual as a counter to the NDC's reaction towards Bryan Acheampong's comments to the fact that the NPP was not ready to bequeath power to the umbrella family under any circumstance.
READ ALSO: 'If this country goes to war, it will be on your head' – Edward Bawa cautions Jean Mensa in Parliament
Source: Onuaonline.com|Ghana