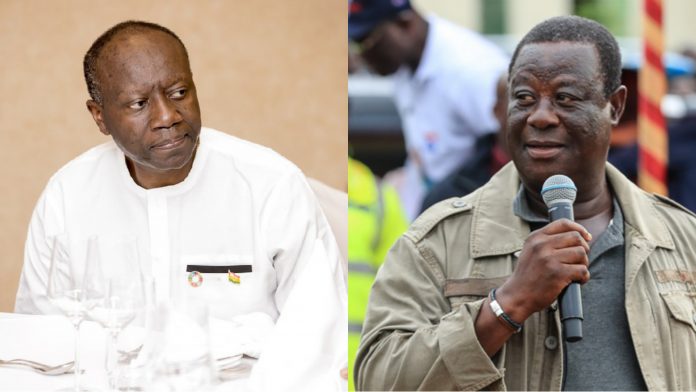 Roads minister, Kwasi Amoako Atta and Kenneth Ofori-Atta, the Finance minister, should be arrested and prosecuted for causing financial loss to the state, broadcaster Yaa Titi Okrah, has asserted.
She says the arbitrary closure of the toll booths in November 2021 has cost Ghana almost GH₵80 million which must not be allowed to go waste.
Her comments stem from government's intention of reintroducing the road toll levy which was sacrificed for the electronic transaction levy after the latter failed to realise its revenue expectation.
The toll, according to government was raking in a GH₵78 million for the state per annum which was inadequate per the 2022 Budget statement, necessitating its abolishment and subsequent introduction of the e-levy.
But after hinting on bringing back the e-levy, Yaa Titi thinks the duo must be charged for the loss the state has incurred through their actions.
"Ken Ofori-Atta and Amoako Atta should have been arrested and demanded the money Ghana has lost from the toll booth they closed. Are you going to abolish the e-levy after reintroducing the toll levy?" she fumed.
Also, Yaa Titi was asking if government is going to compensate the workers they sacked especially now that the minister says the system is going to be automated.
"Are you going to compensate the workers you sacked overnight? You're wicked to the extent that you only think of what you'll get without thinking twice over the physically challenged you sacked overnight," she quizzed.
She also asked that, with "the current state of the toll booths, which money are you going to use to renovate? Is he going to renovate with his personal money?"
The Maakye Co-host bemoaned the idea of converting the booth to urinals, questioning the motivation behind such mentality.
"What came on Amoako Atta's mind to say we should convert the booths to urinal? Even if we are going to pay the toll electronically, how different is it from the old one?
"No matter what, you'll go to opposition and you'll come and explain to us at the Supreme Court why you made us lose that ₵78m in the year," she ranted.
By Felix Anim-Appau|Onuaonline.com