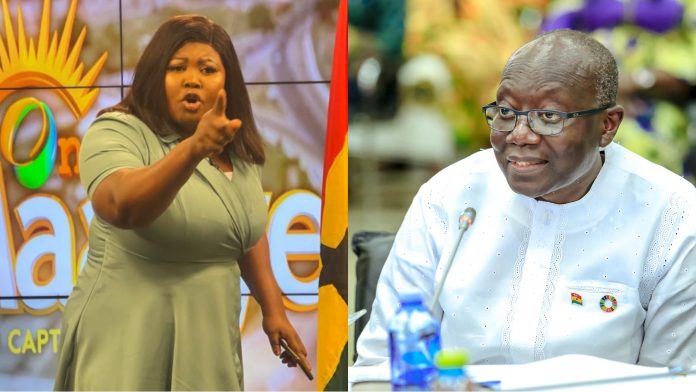 Co-host of Maakye on Onua TV, Yaa Titi Okrah, has prayed for long life for Finance Minister, Ken Ofori Ofori-Attah to live long to face trial for the financial losses he caused the state.  
With Ghana's debt stock now standing at GH₵575 billion and a debt to Gross Domestic Product (GDP) ratio at 93.5%, every citizen owes over GH₵18,400.
During the Fabewoso segment on Maakye Tuesday, January 31, 2023, Yaa Titi said she will pray for the Finance minister to live long, so that he will be tried for all the financial atrocities he has caused the state.
READ ALSO: Create your own village and rule them; you'll never be President – Yaa Titi jabs Afriyie-Akoto
Listing some of the known scandals under the Akufo-Addo government, she said issues like the PDS scandal, contaminated fuel, flying excavators among others would not be left unattended to.
"You'll never die. I'll pray for you to live long. You'll meet us at the Supreme Court. Even if you're in a wheelchair, we'll push you to court. Now you're in government so you're untouchable but you'll definitely lose the election and go to opposition and you'll meet us at the Supreme Court and we'll sit on your case," she indicated.
By Felix Anim-Appau|Onuaonline.com