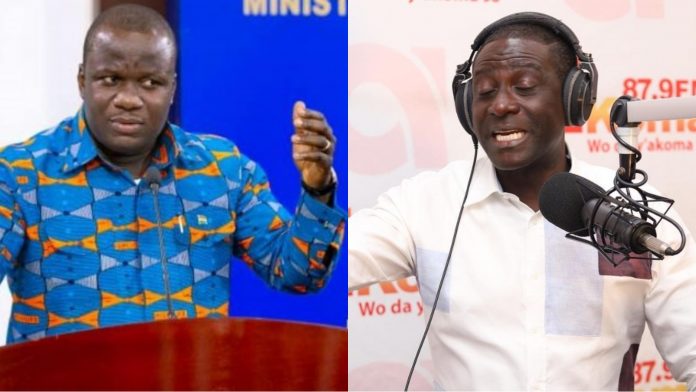 Captain Smart says Lands and Natural Resources Minister, Samuel Abdulai Jinapor has indicted the paramount chief of his hometown on the increasing galamsey menace in the country.
For the minister to accuse the chiefs as complicit in the illegal mining business according to the broadcaster means his (Jinapor) paramount chief is also included.
The lands and Natural Resource minister speaking at the 40th anniversary of the Faculty of Renewable Natural Resources at KNUST said chiefs and other community leaders should also be blamed for allowing illegal mining to be carried out in their communities whilst they could have stopped it.
According to Mr. Jinapor, no mining activity, either legal or otherwise takes place without prior notice of the custodians of the land.
"I come from a Palace and I can say without a shred of equivocation that in most cases, no one bring an excavator to mine in a forest or chamfine to work on a river body in a community without the knowledge or passive approval of the chief, elders, opinion leaders, assemblymen and local authorities in the community. We have to begin to be blunt about this situation on our hands. It is the honest truth".
Even though the Asantehene refuted his claims at the same programme saying concessions are given by the government and not the chiefs, host of Maakye on Onua TV, Blessed Godsbrain Smart speaking on his show Monday, October 3, 2022 noted the minister's statement is a disrespect to his chief if he claims he is a royal.
"Jinapor you've indicted the paramount chief in your area. You've disrespected him. It means your chief does galamsey. Nana Addo knows the NPP people doing galamsey. That's why he has invited the 5 ministers whose region galamsey is ongoing. Nana Addo It's time for you to act," he ranted.
Speaking further, he noted the politicians have destroyed all the institutions in the country and now wants to use Jinapor to initiate that of the chieftaincy institution.
He called on the Okyenhene, Osagyefo Amoatia Ofori Panin II to call the politicians to order, including his nephew the president, for allowing galamsey to destroy Kyebi lands where to be exposed to flooding.
"The politician now wants to break the chieftaincy institution and they have started using Jinapor to spite the chiefs.
"Kyebi flooded because of galamsey. Nobody should blame Okyenhene because before he became the chief, they had been given concession by the government to do galamsey. How can a hilly place like Kyebi flood? Okyenhene call the politicians to order including your nephew, Nana Addo," he said.
By Felix Anim-Appau|Onuaonline.com