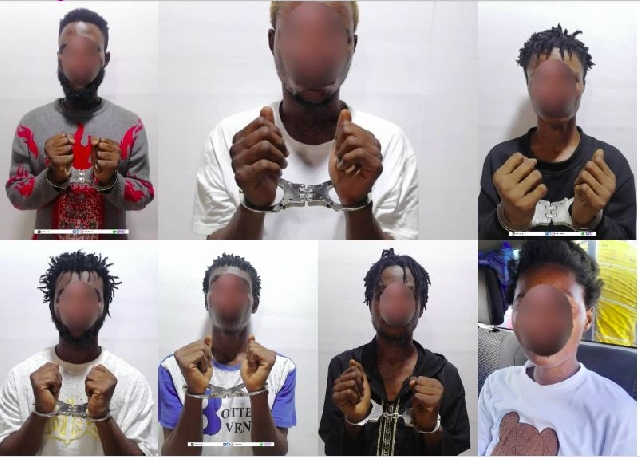 12 suspects have been arreshed by the police whilst over 25 others are being pursued through a sustained cyber-intelligence for their involvement in cyber-related crimes. 
A statement from the police says "investigation has established that the modus of the criminal syndicate is to impersonate or hack into the social media accounts of prominent persons including Ministers of State, Members of Parliament (MPs), Heads of government institutions and corporate entities to defraud unsuspecting victims of various sums of money by promising them jobs, scholarships, publication of fake promotional advertisements and sale of products among others."
The police say over 970 fake social media accounts created by these fraudsters under the guise of persons in the aforementioned positions have been pulled down.
"785 of the fake accounts were in the names of MPs, 62 in the names of security officials,136 for Ministers of State, Ambassadors and some heads of institutions," the statement added.
The statement also has it that: "The Police have also recovered thirty-two (32) mobile phones, three (3) laptops and fifty-four (54) SIM cards used by the suspects to commit their crimes."
The service wants to be contacted on 0249850601 by victims to help arrest whoever is involved such crimes.
The twelve (12) suspects, Gideon Kove alias Billions, Felicia Nanewortor, Carl Kristal, Safari Zatey, Eric Acquah alias Cent Mona, Richard Agbadzi, Isaac Dortsue alias Barajah, Samuel Gadre, Moses Otchie alias Razak, Yonnah Boso, Sterling Kwame Doe and Wisdom Tornyie are currently assisting the Police investigation and will be put before the court to face justice.
POLICE ARREST 12 CYBER FRAUDSTERS FOR USING THE IDENTITIES OF MPS, MINISTERS, SECURITY OFFICERS, CEOS AND OTHERS

Read more from the attached link:https://t.co/ks5VZ90zMs

— Ghana Police Service (@GhPoliceService) March 2, 2023
Source: Onuaonline.com|Ghana