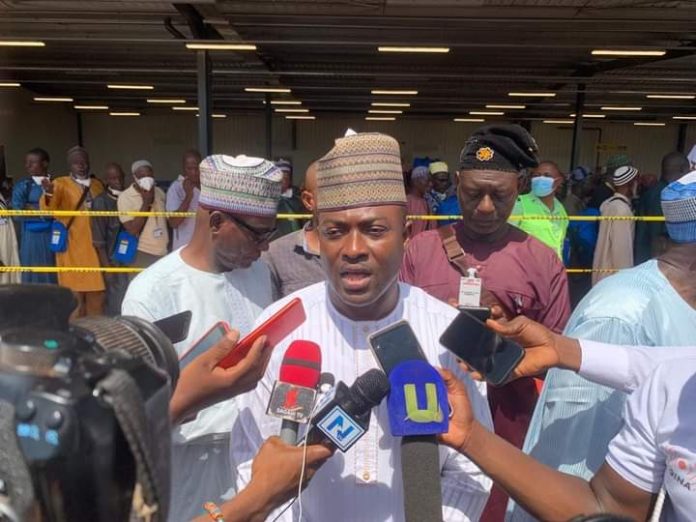 The King and Overlord of Dagbon, Ya-Naa Abubakari Mahama II has poured in praises and words of acknowledgement to president President Addo Dankwa Akufo-Addo for contributing immensely to the success of this year's Hajj pilgrimage in Saudi Arabia.
He has especially lauded the good treatment pilgrims from the Northern part of Ghana had from the Ghana Hajj Board.
Ya-Naa made the remarks when President paid a courtesy call on him at his palace in Yendi on his two day working visit to the Northern Region.
Ya-Naa Abubakari who according to his speech, monitored with keen interest the Hajj operations in Tamale and in Saudi Arabia, was excited with the manner officials and the leadership of the Hajj Board led by the Director of Finance and administration of the Hajj board, Alhaji Farouk Hamza handled the organisation of the Hajj from Tamale, Accra and in Saudi Arabia.
"Your Excellency, this year, Hajj 2022 was efficiently organized here in Tamale. Pilgrims travelled to Mecca and Medina and observed their religious obligations in-line with their faith without any hitch. Whiles pilgrims were in Saudi Arabia, I monitored with keen interest the activities and the welfare of pilgrims over there. The feedback was great and I am happy that the pilgrims mostly from Dagbon state were treated with dignity.
"The Dagbon state, predominantly Muslim, contributes about 65% of the entire Ghana pilgrim population, therefore, I have particular interest in the activities of Hajj in Ghana. The organizers of the Hajj process here in Tamale did a good job and I commend your government for such a wonderful feat," Ya-Naa eulogised.
The Akufo-Addo-Bawumia government has invested and supported Hajj operations in Ghana since 2017 and has chalked many successes including this year's Hajj.The Ghana Hajj Board through the support of its stakeholders, has this year, put big smiles on the faces of Ghanaian pilgrims with excellent services.
By Mohammed Rabiu Tanko|Northern Reg.|Onuaonline.com