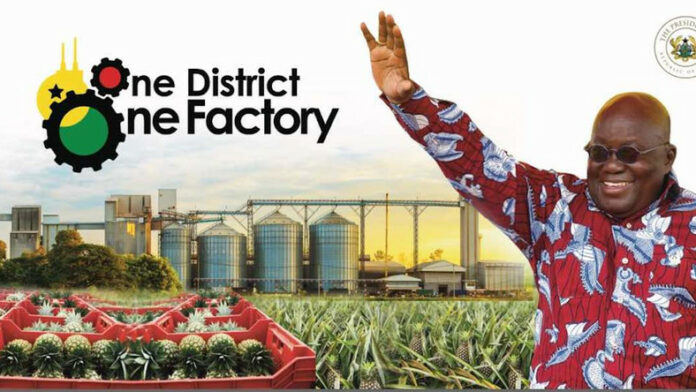 Finance Minister Kenneth Nana Yaw Ofori-Atta has said government's One District One Factory programme has created over 160,000 jobs for the youth in the country as of June 2023.
The Finance Minister says these numbers which comprises both direct and indirect employment are working in 126 factories spanning 58 districts inthe country.
He says most of them are in the agro-processing sector to help propel government's industrialisation agenda.
Ken Ofori-Atta made the revelation during the 2023 mid-year budget presentation in Parliament Monday, July 31, 2023 in Parliament.
READ ALSO: Without Planting for Food and Jobs we'll be going as hungry as our neighbours around West Africa – Afriyie Akoto
"Mr. Speaker, in line with Government's unwavering commitment to
industrialisation, the implementation of the flagship One District One Factory
(1D1F) Initiative is on course. As of June, 2023, 126 factories were operational
nationwide. Over 160,000 direct and indirect jobs have been created, especially for
the youth who have been mobilised to establish agro-processing factories in 58
districts," he relayed.
Meanwhile, he added that the Planting for Food and Jobs Programme has boosted the agriculture sector with measures to finalise the phase two of the project to consolidate the achievements.
READ ALSO: AU postpones 2023 African Games after Addis Ababa meeting 
"Mr. Speaker, Planting for Food and Jobs has brought substantial improvements in
Ghana's agriculture sector. This has resulted in increased food security,
employment along agricultural value chains, and accessibility of raw materials for
developing industries. The programme has directly contributed to increased crop
yields for major food staples such as maize, rice, and soya by 135 percent, 67 percent
and 18 percent respectively within the period.
"After a comprehensive review, Government is finalising PfJ Phase II to ensure a
more efficient and targeted support for the agricultural sector. The key elements of
Phase II are Inputs Credit System, Storage and Distribution Infrastructure,
Commodity Trading and Digitised Platform," he stated.
READ ALSO: A/R: Acute water shortage looms as encroachers take over Barekese Dam buffer zone