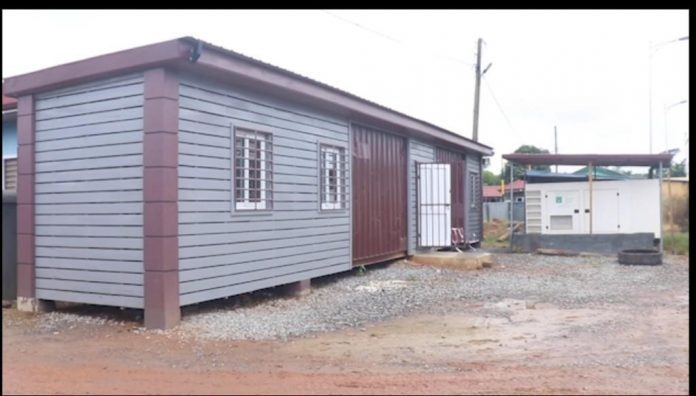 The United Nation's Development Programme UNDP in partnership with the National Commission on Small Arms and Light Weapons, with support from the German Government have handed over the first cross border security system post in West Africa to Ghana.
The West African Sub Region has in recent times been experiencing a number of security mishaps leading to scores of citizens in the affected countries either fleeing, being kidnapped or in the worst case scenario dying.
At the heart of these disturbances is the proliferation of small arms and light weapons used to perpetuate these human rights abuses.
To help address this, the United Nations Development Programme – through its regional programme in partnership with the National Commission on Small Arms and Light Weapons with funding from the German government has set up the first cross border security post at Elubo in the Western Region.
This will be the first decentralised small arms unit at a border post where officials will be deployed to work with allied agencies.
The post is expected to strengthen the capacity of existing security architecture to address the trafficking of small arms, light weapons and ammunitions in Ghana.
"When you get to the airport and other entry points, you will realise that there are narcotic control officers there and their job is to ensure narcotics do not enter. They have equipment, support, intelligence among other things they use to make them effective. This post will be doing a similar work only that the focus will be on light weapons and small ammunitions that are trafficked across the borders. The post will enhance and build on existing capacities of officers at the borders," Frederick Ampiah UNDP Regional Coordinator – SALW for West and Central Africa.
According to Mr. Ampiah "the post will also facilitate a cross – border engagement. So, the post is not for Elubo alone but for Noe as well. Already, we have had engagement with all parties at the Ghana and Ivory Coast borders."
Executive Secretary at the National Commission on Small Arms and Light Weapons, Afi Azaratu Yakubu spoke of the significance of the post especially at the country's borders in the face of modern security trends and dynamics.
"From experience and also research, we are aware that most of the illicit weapons that have inundated the country come through the borders. So, it is necessary that we establish a strong presence at the borders. It will also look at the inflow of arms and ammunitions".
Plans are advanced to set up similar posts at Aflao and Paga. There are considerations to also set up container post offices, in other border communities for similar purposes.
By Eric Yaw Adjei|Onuaonline.com|Ghana