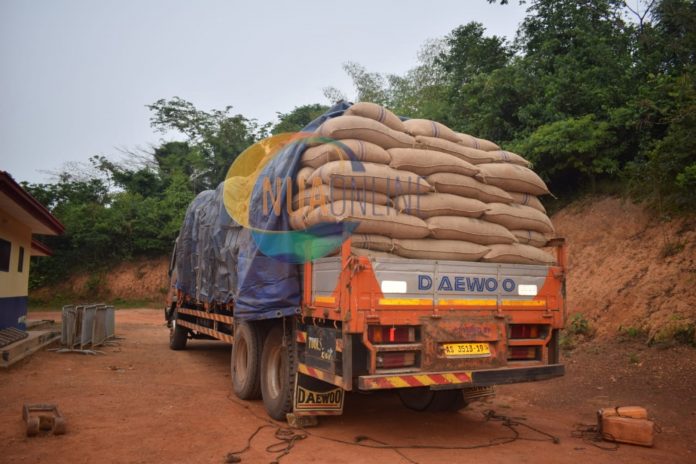 The Suaman Dadieso district police have intercepted 336 bags of cocoa beans being allegedly smuggled to neighbouring La Côte d'Ivoire for sale.
Cocoa bean smuggling has become a norm among some residents in the Suaman Dadieso district over the years.
The development has necessitated the COCOBOD Chief Executive, Joseph Boahen Aidoo, calling for a halt in the engagement of farmers there with supply of farming inputs until the smuggling activities are stopped.
READ ALSO: Media General's Ibrahim Abubakar adjudged 'Journalist of the Year' at Ghana Cocoa Awards 2022
As part of measures to curtail the issue, the Suaman Dadieso district assembly formed a taskforce to monitor activities of those smugglers.
The taskforce intercepted a Daewoo Kia truck with registration number AS 3513-19 loaded with bags of cocoa in jute sacks in the Dadieso – Enchi forest reserve.
After interrogation, the taskforce discovered the truck was heading towards neighbouring Côte d'Ivoire to sell the beans.
The taskforce led the vehicle to the nearest police station and subsequently arrested arrested the driver. The vehicle was taken to the Dadieso Police headquarters for further investigations.
READ ALSO: Gov't to support transportation of foodstuff to reduce food inflation – Minister
The District Chief Executive for Suaman Dadieso, Philip Kwabena Boahene speaking has been telling Emmanuel Sowah "residents in this area do not involve in cocoa smuggling but people from outside the district pass here with their smuggled goods to dent the name of Suaman district and we will do whatever in our power to arrest those involved."
Source: Onuaonline.com|Ghana